Collectanea Topographica et Genealogica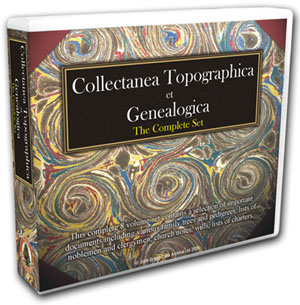 Published quarterly beginning in 1834, the Collectanea Topographica et Genealogica contains a wide selection of important documents and information. Each CD contains the fully searchable and bookmarked PDF files of the original text - which, at around 400 pages per volume, is substantial.
Each one contains hundreds of indexed names and places, including:
Volume 1:
Details of the sales of bishops' lands
Church notes from Staveley and Crich in Derbyshire
Extracts from Parish Registers
Extensive family trees showing marriages between nobility and royalty
Volume 2:
Details of roll of arms
Registers
Pedigrees
Deeds
Wills
List of monastic chartularies
Volume 3:
Registers
Pedigrees
Deeds
An evaluation of the estates of the bishoprics of England and Wales
Descriptions of banners, standards, and badges from Edward III ro Henry VIII
Volume 4:
Roll of arms
Pedigrees
Funeral certificates
Burials
Parish register extracts
Deeds
Charters
Wills
Volume 5:
Parish register extracts
Wills
Baptisms
Burials
Deeds
Epitaphs
Pedigrees
Names of pilgrims from England to the Vatican in Rome
Volume 6:
Pedigrees
Charters
An abstract of a chartulary of Hexham Abbey
Additions to Dugdales's baronage
Volume 7:
Pedigrees
Registers
Memorials
Church Notes
Muster Rolls
Transcripts and Extracts of Wills
Volume 8:
Pedigrees
Church Notes
Residents in Warwick
Wills
Burials
Contents Pages for all Eight Volumes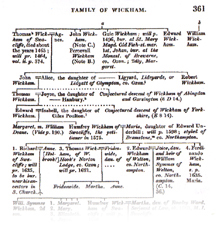 Price: £69.95 (full set) or £17.95 per volume plus P&P
S&N Genealogy Supplies
Manor Farm
Chilmark
Salisbury
SP3 5AF
(01722) 716121
Right: Collectanea Topographica contains hundreds of indexed names and places including the Wickhams.
Collectanea Topographica et Genealogica - available from GenealogySupplies.com