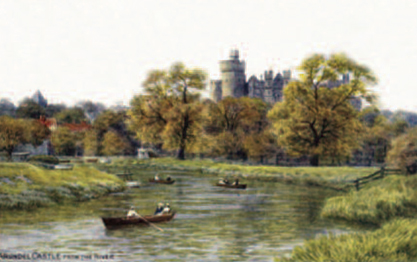 TheGenealogist has added over 1.1 million individuals to its parish record collection covering the county of Sussex. Published in association with The Parish Record Transcription Society, this first tranche of records will be followed by more releases in the near future.
This new release covers individual records of:
717,000 baptisms
213,000 marriages
208,000 burials
The Parish Record Transcription Society (PRTSoc) has worked with TheGenealogist and S&N to publish its records online, making over 1.1 million individuals from baptism, marriage and burial records fully searchable:
"We are very pleased to be working with TheGenealogist on this major project, previously undertaken to transcribe the parish registers of West Sussex by the staff and dedicated volunteers of the PRTSoc. This will preserve these records for future generations and brings them into the online community," said Peter Steward, chairman of PRTSoc.
Mark Bayley, Head of Online Development at TheGenealogist, welcomed PRTSoc to the growing number family history societies on both TheGenealogist and FHS-Online saying: "We're delighted that PRTSoc chose to publish their records through TheGenealogist and FHSOnline. This release adds to the ever expanding collection of parish records on both websites. These partnerships help fund societies whilst bringing their records to a much wider audience, through online publication." This release joins TheGenealogist's Sussex collection including parish records to form a major resource for the county. Read an article delving into these records here: www.thegenealogist.co.uk/featuredarticles/2017/new-sussex-parish-records-reveala-grizzly-end-646/.