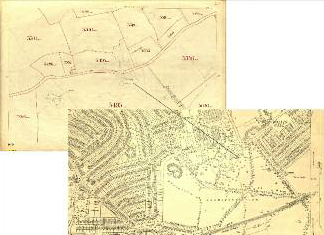 TheGenealogist has released the third part of its unique online record set, The Lloyd George Domesday Survey. This major resource based on records created for the Valuation Office survey can now be used to find where an ancestor lived in 1910 in the area around Brent. This useful combination of maps and residential data from The National Archives is being digitised by TheGenealogist to bring it online for the first time. These records precisely locate an ancestor's house on a large scale and extraordinarily detailed hand-annotated map, thus pinpointing the exact property.
The area newly released was still the location of farms and countryside at the time of the Lloyd George Domesday survey – but with the ever encroaching urbanisation of Brent, the council moved to buy land to create a park for the future suburb of London.
TheGenealogist's Lloyd George Domesday Survey provides links to individual properties on particularly detailed ordnance survey maps used in 1910. These are linked to digitised pages from the original Field book often giving a detailed description of the property. Users can find an address discovered in a census or street directory down to a specific house on the map.
TheGenealogist's digitisation of the Lloyd George Domesday Survey is a huge ongoing project with over 94,500 Field Books, each having hundreds of pages to scan with their associated large scale IR121 annotated OS maps. This latest release from TheGenealogist includes these detailed IR58 Field Books that contains a great deal of information about the properties that had been surveyed. Find out more at TheGenealogist.co.uk/1910Survey/.
London show success
The Family History Show for London, held at Sandown Park on 22 September, and organised by Discover Your Ancestors, was a roaring success, with more advance bookings than the total number of attendees seen last year (let alone the many more people who bought tickets on the day), now benefiting from a larger venue.
The keynote speaker was legendary US-based genealogy blogger Dick Eastman. He wrote on his blog (at www.eogn.com) after the event: 'It was a successful event with the largest crowd ever for this event and the largest crowd of any family history event this year in the United Kingdom… Two large lecture theaters were busy all day with presentations made by a number of experts… Perhaps the busiest of all the events was the (free) Ask the Experts Area that was in operation all day… I believe one of the successes of this event is due to the modest admission charges.'
Our thanks to everyone who made it such a great success, and do put next year's event in your diary: 24 August 2019 (thefamilyhistoryshow.com/london).