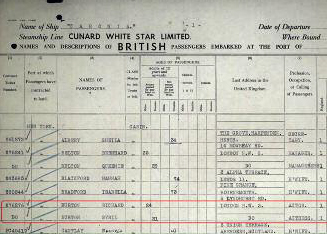 TheGenealogist has just released over four million outbound passenger list records for the 1950s. These records join the ever expanding suite of immigration, emigration, naturalisation and passenger list resources on the site. With the release of this decade of records, researchers can discover ancestors who departed from the UK by ship to destinations across the globe.
The fully searchable records, digitised from series BT 27 at The National Archives, will allow researchers to:
Locate family members making a journey together using TheGenealogist's SmartSearch. This unique system is able to recognise family members together on the same trip. In this situation it will display a family icon which allows you to view the entire family with one click.
Discover people sailing to the USA, Canada, India, Hong Kong, New Zealand, Australia and elsewhere.
View images of the original passenger list documents, compiled for the Board of Trade's Commercial and Statistical Department and its successors.
Discover the ages, occupations and address and where the passenger intended to make their permanent residence.
These fully indexed records allow family historians to search by name, year, country of departure, country of arrival, port of embarkation and port of destination.
For more on these records, see www.thegenealogist.co.uk/featuredarticles/2018/the-1950spassenger-lists-discover-celebrityvoyages-972/.
Tens of thousands more school registers released
TheGenealogist has launched more school registers in its Educational Records collection, adding details of tens of thousands of individuals.
The records can be used to discover a school pupil or university student's achievements. Educational records will confirm birth dates and sometimes place of birth. They can also give the father's name and address, useful when they are missing from the census, and details of the school pupil's later occupation.
The newly released registers cover: Tonbridge School, Kent; Repton School; Allhallows School; Wigton School; Felsted School; Leeds Grammar School; Sherborne School; St Edwards School; Lancing College; Chigwell School; Bury Technical School and School of Art; Epsom Girls Grammar School, Auckland; Christ's College Grammar School, New Zealand; Edinburgh Academy; Summer Fields; Lancaster Royal Grammar School; Newcastle Royal Free School; Cambridge Leys School; Bromsgrove School; Oakham School; Merchiston Castle School; Whitworth; Ackworth School; Peterhouse College, Cambridge; Brecon School; Bootham School Register; and Charterhouse.