RootsMagic 7 UK Edition
After a two-year gap,  RootsMagic 7 returns to battle for the coveted crown of best PC software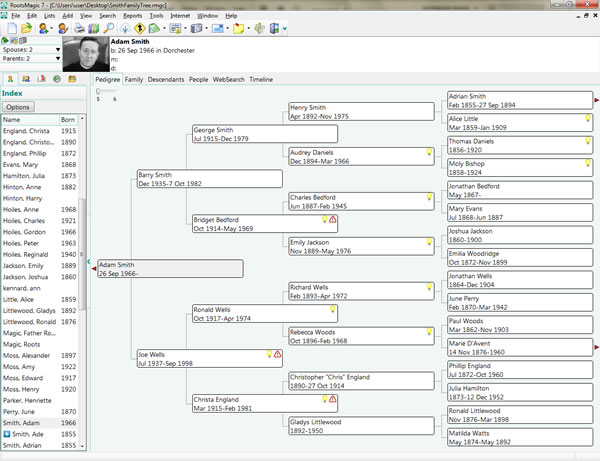 Appearing two years  after the previous version, RootsMagic7 is a much-needed update. The new  release adds some useful and powerful new features.
Its best new feature  is the addition of a DataClean tool, which allows you to fix issues with names  and places. To do so, choose your settings and click to discover what it finds.  You can review and improve each proposed change, and its particularly good with  resolving place names.
Version 6 saw the app  add support for uploading your family tree to the MyRootsMagic website (my.rootsmagic.com) for backup and  sharing. This new version allows you to maintain and publish multiple trees  from one handy screen; a feature joined by File Compare, which compares  multiple databases for differences, providing options for copying data between  them to bring the trees back into sync.
The media tools gain  two useful new features: the ability to back up your media items separately,  plus support for adding new items by dragging them into the RootsMagic window  from a folder on your PC.
Other minor  improvements include support for named groups that you can organise individuals  into, as well as the ability to import lists from other databases. RootsMagic 7  also allows you to integrate records from MyHeritage into your file, in  addition to existing support for FamilySearch, but this requires a paid  subscription which may limit its appeal to some.
Use it for: Recording, researching and managing your family tree
Publisher: S&N Genealogy
System: From £18.40
Price: Windows XP, Vista, 7, 8 (32-bit and 64-bit)