All Good Sports
Keith Gregson explores how to find online information about sporting ancestors who 'played for fun' or as a pastime in Victorian and Edwardian times
As noted in my previous article on tracing professional sporting ancestors (see the Periodical, January 2015), differentiating between those who played sport for fun and those who played for money can be difficult.
Professionals in certain sports felt their professionalism to be a stigma; (in the case of one successful Scottish athlete during the Victorian period, for example, there was a change in surname made to save his parents embarrassment). At the same time, in sports such as association football and rugby football – especially in the mid to late Victorian period – players declaring themselves to be amateurs were in fact receiving 'boot money' ( ie in their boot or 'under the table').
Nevertheless, amateur sportsmen and women, however successful they were, would not have considered their sporting activities to be recordable as 'occupations'. This can be seen clearly when we take look at some sporting females who enjoyed success in archery, tennis and swimming during this period.
The problem with most female amateur sports was they necessitated both time and money – especially at the most competitive of levels.
Charlotte (Lottie) Dod was born in 1871 and won the Wimbledon ladies final five times between 1887 and 1893. Using www.TheGenealogist.co.uk's Keyword Search, we can easily bring up all of Charlotte's records, using the keyword of Cheshire and her year of birth: This brings back just five results (see page 17); her birth record and every census she features in.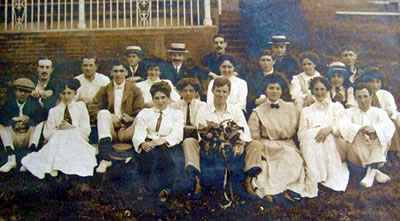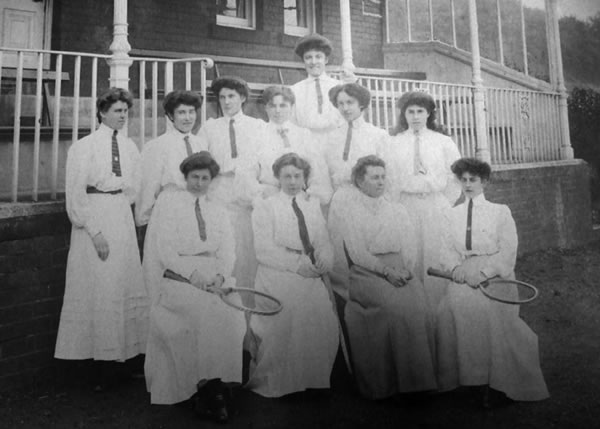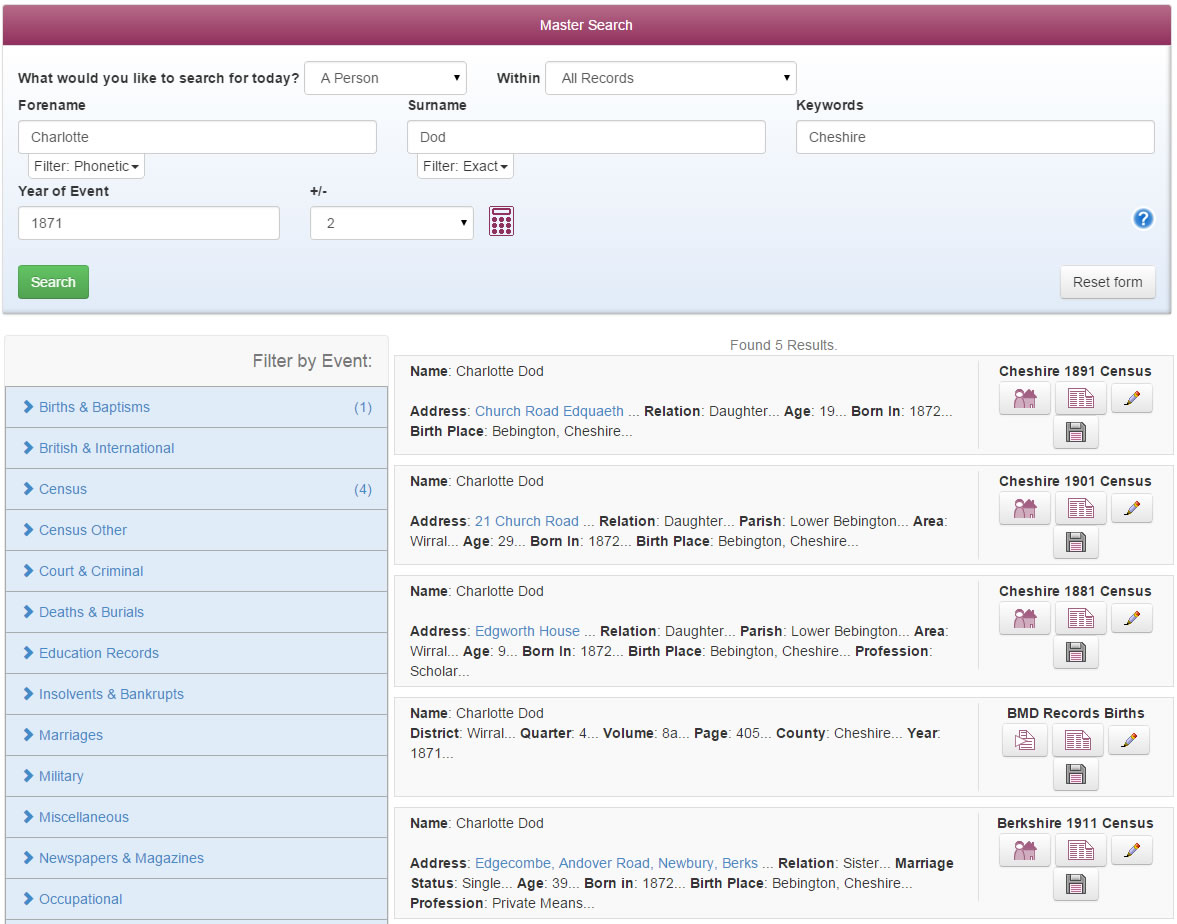 As you can see, despite being a tennis champion, Lottie does not give an occupation in the census. In 1881 she was registered as the daughter of a widow, age 9 and living in Lower Bebington in Cheshire. To search for Lottie's family in 1871 (just before Lottie was born), I used TheGenealogist's Family Search tool, where you can enter a family's forenames and view any matching results (see page 18).
Entering her mother, Margaret, and siblings, we discover Lottie's father Joseph as a retired cotton broker, 12 years older than his wife. You'll also notice that they are recorded under the different spelling of Dodd, showing the importance of looking for spelling variations (such as TheGenealogist's Phonetic Matching) in your search.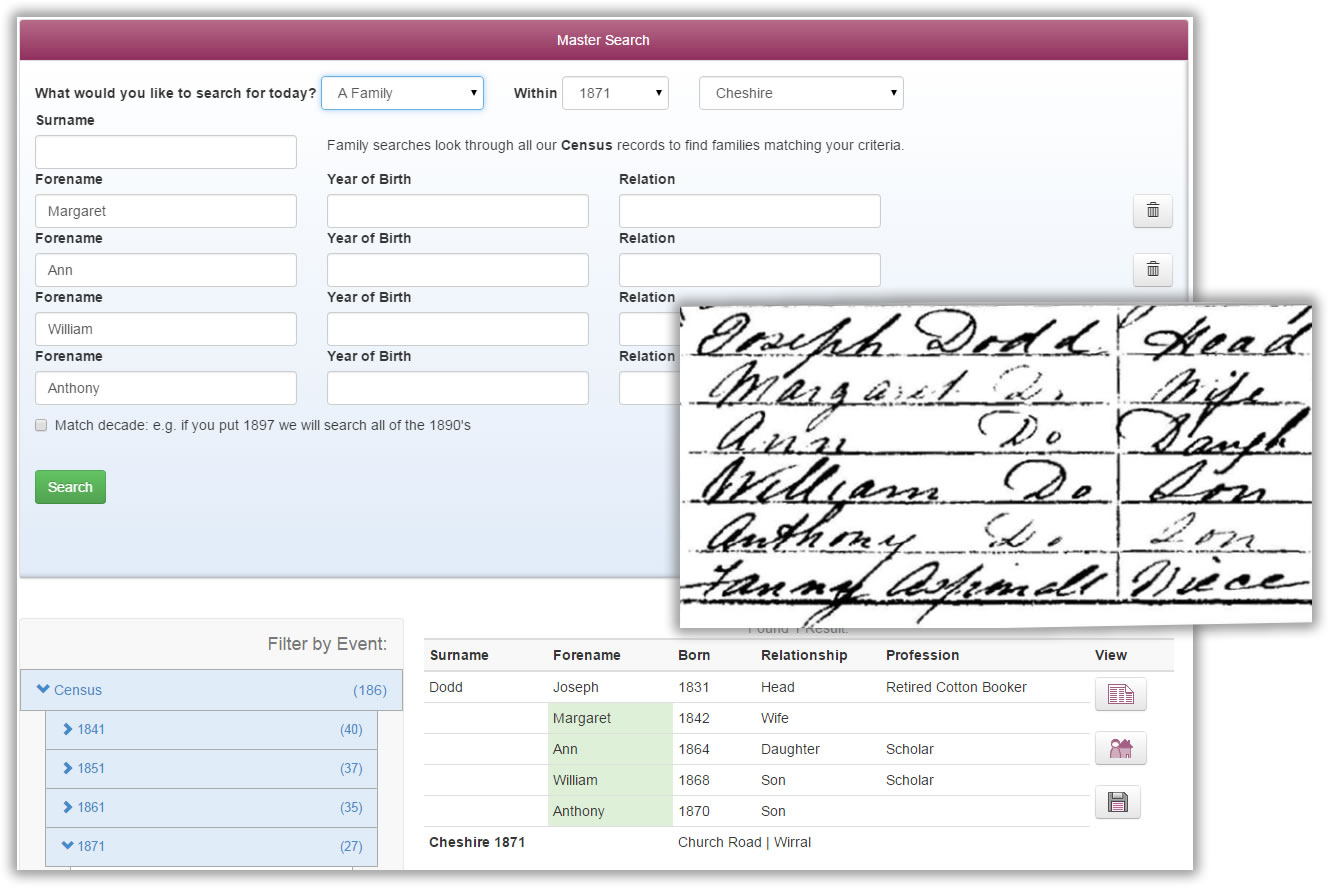 In 1901 the tennis star was still with her mother but by 1911, in her late 30s, she had moved south to Newbury and was living with two single elder brothers in their 40s (one of them also an excellent tennis player) – and a house full of servants. Newbury would have been nearer to the centres of significant tennis at the time.
In 1908, Lottie Dod won a silver medal for archery at the London Olympics and was one of 25 entries in the ladies' women's double national round. All 25 are named in the records and were British! In eighth place came the magnificently named Albertine Thackwell. Albertine was easy to research and her name alone came up with seven hits at the site.
Albertine was born in 1864 in Alcester in Warwickshire and was recorded as living there up to 1891, moving to Little Comberton in Worcestershire by 1901. She was a vicar's daughter, never married and was never recorded as having an occupation.
In 16th place in the archery in 1908 was someone with a familiar name – Doris Day. Again, her name alone in the search engine came up trumps. Doris Elinor Day was her married name. She was Welsh and married to a priest of the Church of England named in the 1911 census as Ernest Hermitage Day. In 1901 they were in her native Radnor but by 1911 they had moved to Hereford. She was in her mid-30s when she appeared in the Olympics and had a nine-year-old daughter.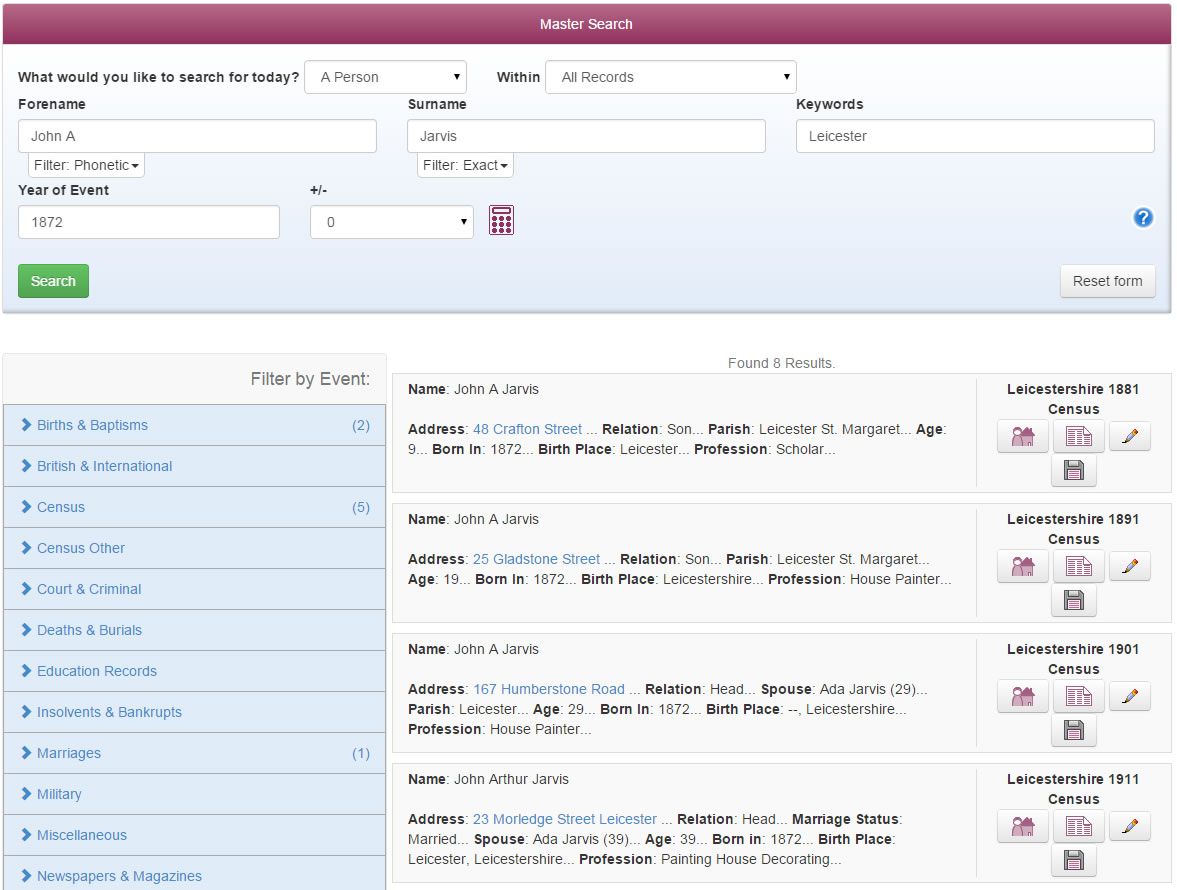 Swimmers
Archery and tennis seem to have been particularly played by females from the middle/upper classes. This was not the case with swimmers – both male and female. John Arthur (Jack) Jarvis, from Leicester and born 1872 was one of Britain's greatest swimmers and was eventually awarded three gold medals for his success in Paris in the 1900 Olympics, including one for water polo. To find him in the records, I simply used a keyword of Leicester (his birth place) and a year of birth. In all three censuses from 1891 to 1911 he is recorded as a house painter, showing the working class nature of this sport.
On the other hand Cyril Wilkinson, (born Durham in 1884) who was to play first-class cricket as an amateur and in 1920 captained England to Olympic hockey success was destined to make his mark as a senior civil servant. In 1901 he was at school in Devon (TheGenealogist also has his school record).
In 1911 Cyril was in Surrey, listed as a 'third class clerk' and civil servant in a probate office. As with many an amateur sportsman he had a mother 'of independent means'.
Using keywords or other family members' names can really help refine your search and track down the person you're after. Once the main details of an amateur sporting ancestor have been discovered, there is still plenty of work to do on the sporting front. If you can trace a sporting ancestor to a specific club, then there is a fair chance that records may have survived. Some remain with the clubs themselves while others may have been deposited at local studies libraries or county/regional record offices. 
Other Sports
Association football, athletics, billiards, boat racing, boxing, cricket, golf, horse racing, and rugby league all existed as professional sports but nearly all embraced amateurs too.
Apart from the sports dealt with in the main article, badminton, bowls, croquet, cycling, fencing, fives, hockey, ice skating, lacrosse, polo, roller skating and roller hockey, sailing, shooting, show jumping, squash and racquets, water polo, winter sports, wrestling and the Olympics (especially London 1908) all turn up named participants. In Scotland, curling, and, in Ireland, hurling and Gaelic football can also lead to successful family history research.