---
How to search the Army & Navy Lists

Select Military Records from the home page, and then select 'Military Records - New' from the drop-down menu, to be taken to the Army and Navy Lists. The list that displays shows 10-year spans, between 1660 and 1950. Either select a decade of interest, or click on the 'View all books in this series' link. Viewing the books displays a full list of the volumes available.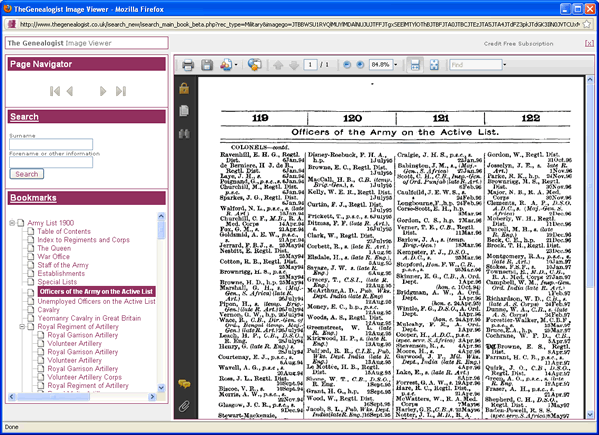 Your selected book opens in the viewer with the bookmarks pane offering a list of sections that can be accessed directly with a mouse click. Sections with + or - signs adjacent can be expanded or collapsed to reveal sub-sections or hide unwanted details and make navigation easier. Within your chosen chapter you can move forward and back with the Page Navigator buttons while using the icons above the viewed page to print, save or change the zoom.
Apart from manually browsing a book you can use the viewer's Search facility to scan the entire volume in seconds. With an unusual family name it's often sufficient to just enter a surname, but if this gives too many hits try adding a forename or other information. The matches are shown as a series of clickable links that take you straight to the relevant age with the text highlighted in blue so you can quickly locate it. An additional panel opens listing the matches on that page, which is especially useful to move between multiple matches on the same page.
With the Knights of England 1127-1904 the entire records are searched from a single box where you enter the keywords in order of importance. This creates a list showing the matching text, volume and page details of each one and links to view the pages. If you fail to find your ancestor on a page you need to return to the list and open another link - there is no way to jump from one match directly to the next (selecting 'next' will display the next page).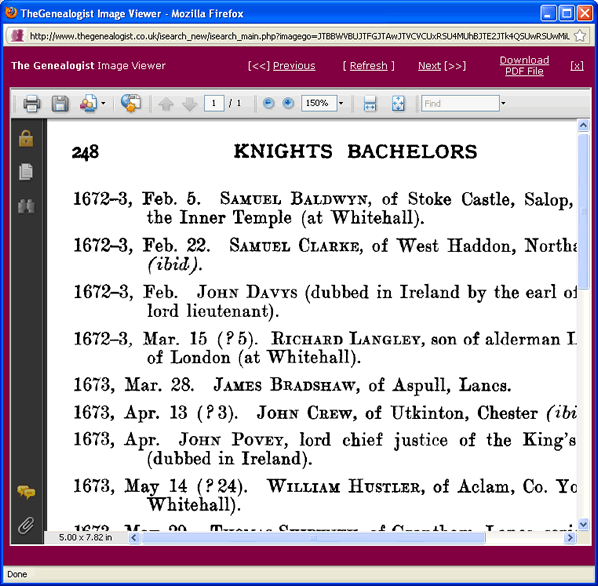 ---
TreeView
With your new-found facts about your family, you may want to create an online family tree. If so, head for the TreeView tab at TheGenealogist.co.uk. To start a new tree you may either enter data for your first family group manually or upload a GEDCOM file.
The comprehensive TreeView tools enable you to build a complete tree with sources, notes, pictures and events to view as a chart or family group. As your tree is online, you can log in on any computer connected to the Internet to view and edit your tree, as well as knowing you have a secure copy if your own computer fails. Others can also view your tree (either by you inviting specific individuals of if you make it public).
Being part of a genealogy website means you are not creating an isolated family tree, but one that integrates with a vast collection of records. The system automatically checks for possible links from your tree to its database and offers a list of likely resources and people for you to check. When you find family members the relevant pages can be saved to your research log and linked to individuals in your TreeView file to create a complete record of your researches.
---
CDs of military interest are available from www.genealogysupplies.com, including a wide range of resources such as the Dorset Absent Voters' List 1918-1919, and The Dambusters 1943.