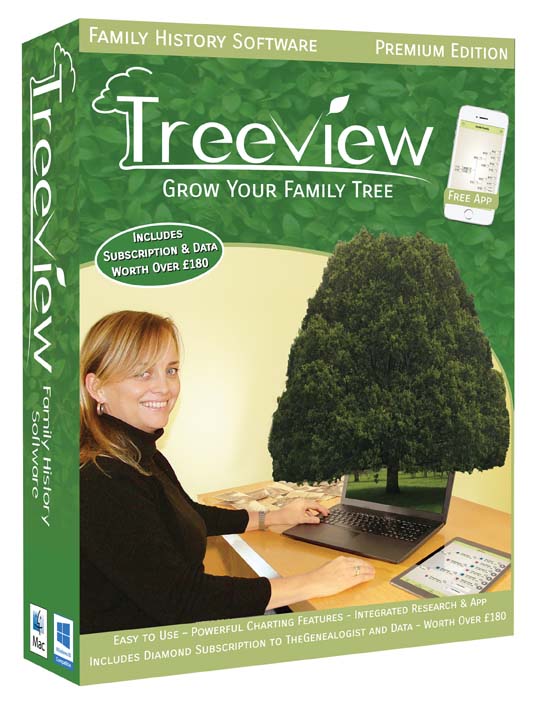 Made in the UK for the UK market, TreeView is all that you'd expect from the latest family history software, allowing you to create a family tree on your desktop (Mac and PC), with reports and a range of charts, online search facilities, and (importantly for today's genealogist) a sync feature – allowing you to keep your research up to date across your desktop, device and online tree.
To gain a clearer idea what TreeView offers, install the free trial version from TreeView.co.uk, which will allow you to use the full range of software features for 30 days.
To start: you can create a new file, import from an existing GEDCOM, or from your online tree at TheGenealogist.co.uk or TreeView.co.uk. It's worth selecting the option to 'sync with TreeView' (you can still opt to keep this online tree completely private, or share it with only chosen people, rather than make it publicly available if you prefer).
Tree views: display your ancestors' details as a pedigree view, family, hourglass, ancestor, descendant, relationship, full, fan and circle view.
Charts: Select 'Charts' from the menu to open an existing chart or create a new one using the customisable charting options. As well as a choice of layouts, you can also choose which facts (with dates and places) to display on your tree. I really liked the charting feature, finding it useful, immediately intuitive and engaging visually.
Reports: another key feature of a family history program are the reports, and with TreeView there are individual, family and narrative ones. Select which facts to include in your report, and opt to include media, notes and addresses.
Sources & notes: I found the source 'Citation' facility provided a very good balance between making it possible to record research accurately, without overwhelming by too great an array of possible citation options.
Maps: usefully plot all the places related to an individual, or click on an address and display its location using the 'Maps' feature.
Research: look for further details about your ancestor in the following online data outlets via the 'Research' tab: TheGenealogist, FamilySearch, Find A Grave, RootsUK, Genealogy Bank, and TreeView.
I found TreeView very enjoyable to use, with an efficient range of customisable options to ensure that you can record your family history accurately, and readily keep your tree organised and up to date, both researching at home and out and about.