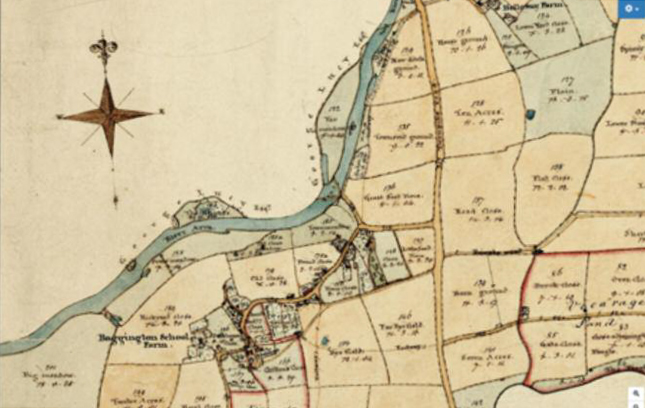 TheGenealogist has just released additional sets of colour tithe maps to join the previously available greyscale maps in their National Tithe Records collection. This release for Warwickshire is of high-resolution colour digitised maps which will provide the family historian with highly detailed maps, sourced from The National Archives as well as the Warwick County Record Office.
Researchers searching for owners or occupiers of Warwickshire land surveyed in the 19th century for the Tithe Commutation Act 1836 now have a choice of plans linked to the fully searchable apportionment schedules. Subscribers to TheGenealogist's Diamond membership can select to view The National Archives' grayscale maps, The National Archives' colour map, or the Warwickshire Record Office colour maps when using the Tithe & Landowner records for this county. The Warwickshire Record Office maps are, in many cases, less faded and more vibrant in their colours having had less wear and tear than the alternatives.
The new data includes colour tithe maps showing plots of land covering the years from 1837 to 1855 with some much later plans where there was an altered apportionment recorded.
These tagged colour maps join the previously released apportionment record books, national greyscale maps and colour maps for Rutland, Huntingdonshire, Buckinghamshire, City of York, Middlesex, Northumberland, Surrey, Westmorland, and the North and East Ridings of Yorkshire.
Lloyd George Domesday records for North Bucks released online
TheGenealogist has just released the North Buckinghamshire maps and field books into its property ownership and occupancy record set, The Lloyd George Domesday Survey. This unique online resource allows researchers to discover where an ancestor lived in the 1910-1915 period from various London districts and now, for the first time, North Buckinghamshire.
These records make use of TheGenealogist's powerful new Map Explorer to access the maps and residential data, giving those who want to discover where their ancestors lived in the period before the First World War some powerful new features to use. The Lloyd George Domesday Survey records are sourced from The National Archives and are being digitised by TheGenealogist so that it is possible to precisely locate where an ancestor lived on large-scale, hand-annotated maps. These plans include plots for the exact properties and are married to various georeferenced historic map overlays and modern base maps on the Map Explorer, which allows the researcher to thoroughly investigate the area in which an ancestor lived.