How to trace an ancestor through their occupation (Part 1)
Discover more about your working forebears by using the wealth of occupational records at TheGenealogist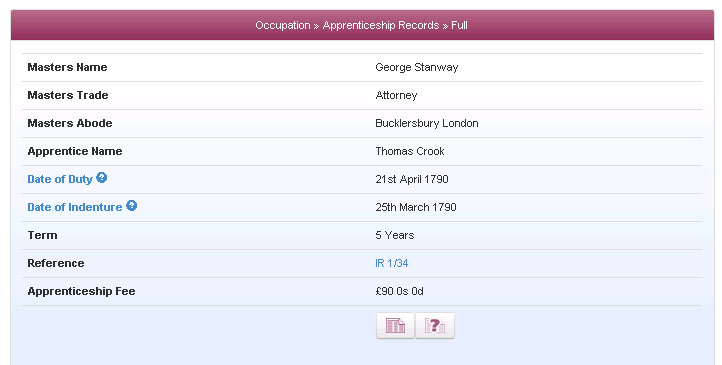 Occupational records enable us to learn more about the lives of our ancestors. They can complement finding made in the census collection, and act as a valuable census substitute for the years before 1841.
Before our ancestors have even started their profession, we can find them within apprenticeship registers. These were kept by the Board of Stamps and listed the money received in payment of the duty on apprentices' indentures. The records from 1710 to 1814 are available to search on TheGenealogist. In the following working example, we're going to look for an apprentice to an attorney.
You can search by name of apprentice, master, or both. Here we have selected 'Apprentice' and entered the name of our trainee, who has a very unfortunate surname for an attorney, Thomas Crook. Our search returns a single result. Opening a transcript of the record, we can see that his master was George Stanway of Bucklersbury, London. The record reveals the date of the indenture of apprenticeship, 25 March 1790, and the date of duty – when the stamp duty was paid by the master.
We know Thomas' apprenticeship was for five years, so from 1795 onwards we should be able to find him in business. To do this we can make use of another great census substitute to be found on TheGenealogist: trade directories.
From the search page we select 'Directory Records', then 'London', then enter Thomas Crook's name along with a date of 1820, +/- 25 years. From the results we know that in 1825 Thomas was based at Baldwin's Court in Cloak Lane, London. With trade directories you can find the address of a person's premises, while in the latter directories their residential address is often revealed.
You can also find a vast range of occupation-specific record sets listed in the occupational records section on TheGenealogist. Within these we find Thomas listed in an 1824 Law List.
With the tools and record sets available on TheGenealogist we can now discover where an apprentice learnt their trade and where they moved on to afterwards.