How to trace an ancestor through their occupation (Part 2)
Part two of our look at TheGenealogist's occupational records covers occupation specific collections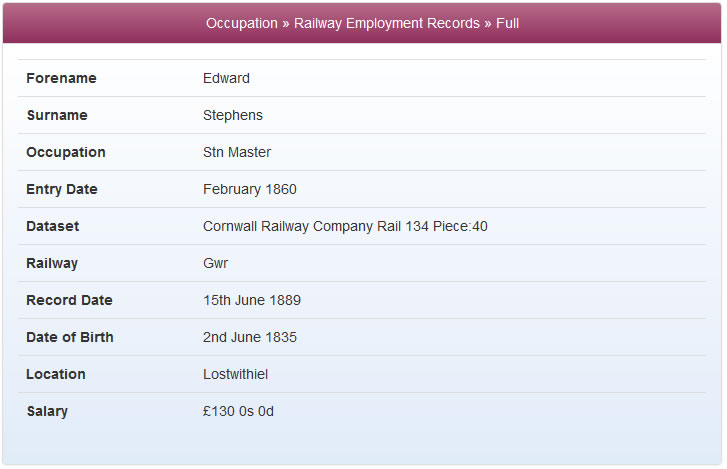 Occupations are key to good family history research, and are a really useful way of refining a search for a common surname in the census. Some of the major sites don't record occupations from the census records but this vital area of information is easy to include in searches on TheGenealogist as a Keyword.
The census is a great way of finding out an ancestor's occupation, but to find out more detail you can use TheGenealogist's wide range of occupational data sets that really add colour to an ancestor's story, such as discovering their wealth and social class. Records available on TheGenealogist include lists of actors, clergy, directors, lawmen, medical workers, ships' crews, teachers and sports people, as well as apprenticeship records.
For those of us with forebears who worked on the railways, you can search Railway Employment Records, listed in the Occupational section. For example we see Station Master Stephen Edwards (left).
If your ancestors instead took to the skies, then the pilots database is a brilliant source. It allows you to look for aviators from the early dates of flight, and includes the very first certificates issued to pilots by the Royal Aero Club. We can find that Aviator's Certificate number 2 was awarded to the Hon Charles Rolls (co-founder of Rolls-Royce) in Mach 1910. Another record shows that he held Aeronauts Certificate number 4, from July 1906.
Searching for Thomas Sopwith, a contemporary of Rolls, we can find his Aviators Certificate is number 31. Within the occupational data on TheGenealogist we can go on to find Sopwith in several other related records.
His entry in the Who's Who in Aviation gives us an idea of his achievements, such as making a British duration record of 108 miles in 3 hours 12 minutes in November 1910 and helping to produce more than 18,000 British World War 1 aircraft including the famous Sopwith Camel.