In Scotland the Court of the Lord Lyon King of Arms exerted, and still does, strict control of armigerous bearings. In England and Wales, however, the responsibility of ensuring that people who claim the right to bear arms are entitled to do so has no statutory authority. In the past, the College of Arms, the body charged with awarding and monitoring bearings, simply sent our representatives to investigate families in particular counties and their researches produced valuable pedigrees. These visits are designated visitations and S&N have reproduced Visitations of Wiltshire coverThe Visitation of Wiltshire 1623 (originally published from a manuscript in 1882) and the Visitations of Essex 1552, 1558, 1612 and 1634 (published from miscellaneous manuscripts in 1878).
Visitations of Essex coverBoth cost £9.95. For each family there is both a description of itsarms and a pedigree. Those who are directly descended from an ancestor entitled to bear arms usually know about this right. The interest in these publications for the average family historian lies in the younger sons and daughters in the pedigrees reproduced who often intermarried with people lower down the social scale (though rich) and therefore merged into the general mass of upper-middle class people.
A stern list of usurpers, those who claimed the status of 'gentlemen' without the actual right to bear arms, is included in the Wiltshire Visitation, which may give clues to that mysterious coat-of-arms or crest passed down in a family.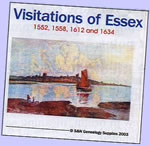 The Visitation of Wiltshire 1623 at GenealogySupplies.com
Visitations of Essex 1552, 1558, 1612 and 1634 at GenealogySupplies.com