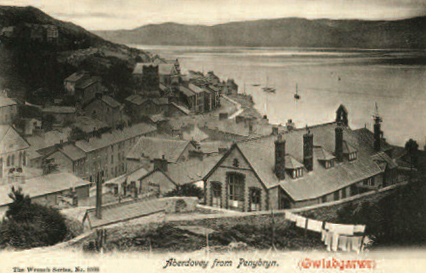 Merioneth, or Merionethshire (Sir Feirionydd in Welsh) is one of the 13 historic counties of Wales; it was absorbed into Gwynedd in 1974. Its main towns are Aberdyfi, Barmouth, Llan and Blaenau Ffestiniog, Dolgellau, Harlech and Towyn, and Corwen historically.
In pre-Norman times this region mainly constituted the cantrefs of Meirionydd and Penllyn, plus Ardudwy. The Norman presence in England was the most significant factor which disrupted this.
In 1067, the rulers of the kingdoms of Gwynedd and Powys invaded England, in support of Eadric the Wild, a leader of continued Saxon resistance against the Normans. When northern England revolted against in 1080, the Normans responded by preemptively attacking, and then occupying Wales, to prevent any further Welsh assistance to the English. Gruffudd ap Cynan, the heir to the principality of Gwynedd, came to an accommodation with the Normans, who restored him to power. His sons engaged in expansionist attacks on surrounding territory, taking Meirionydd from Powys in 1123, and annexing it to Gwynedd.
In the early 13th century, Llywelyn Fawr established a distinct territorial unit comprising Ardudwy (immediately north of Meirionydd) and Meirionydd, and gave it to his own son, Gruffydd.
In 1284, King Edward I issued the Statute of Rhuddlan, terminating Gwynedd's existence as a state. The former 'appanage' of Ardudwy-Merionydd was converted into Merionethshire (it became an administrative county in 1888).
Merioneth was an important part of the Welsh slate industry in the 19th and 20th centuries, with major quarrying centres at Blaenau Ffestiniog in the north of the county and Corris in the south. By 1881 Blaenau's population had surged to more than 11,000 thanks to the slate industry, but it declined in the 20th century and now only has less than 5,000 people.
Aberdyfi was a centre of fishing and shipbuilding (as was Barmouth), with seven shipyards in the mid-19th century; there were strong shipping links with Liverpool and Ireland. In 1597, a ship of the third Spanish Armada was stranded for 10 days in the Dyfi estuary. Copper was also mined in the town.
In the 17th century Dolgellau had a significant number of Quakers, though some emigrated to Pennsylvania in 1686 after being persecuted. The town's economy was based on the woollen industry. There was also a small gold rush in the 19th century but few of the mines yielded worthwhile results and most were closed by the early 20th century.
Exclusive census analysis from data at TheGenealogist reveals that common surnames in Merionethshire in the 19th century that stand out against Wales in general included Pugh, Ellis, Griffith and Parry; plus Richards and Rowland in 1841 and Humphreys and Rowlands in 1911. The population rose from 39,000 in 1841 to 60,000 in 1911, with quarrying, farming, mining and fishing roles dominating occupations.
Merionethshire Records Online
Leading data website TheGenealogist.co.uk has a wealth of records for Merionethshire. Here is a quick run-down of what you can find (in addition to national collections:
Trade directories: directories for 1835, 1844 and 1876.
Census records: Merionethshire records for every census from 1841 to 1911.
Nonconformist registers: Nonconformist chapels and meeting houses across Merioneth are covered in the site's collections.
Land owners: the site's huge collection of tithe commutation records includes Merioneth, along with tithe maps; plus an 1873 survey of Welsh and English landowners includes the region.
Wills: many people from Merionethshire can be found in Prerogative Court of Canterbury (PCC) Wills 1384-1858.