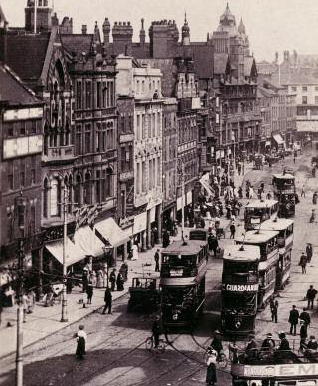 With the 1921 census still some years away from public release, TheGenealogist.co.uk has added further records to its 1921 census substitute collection. This resource covers a large number of county directories which have been transcribed to produce a searchable resource. This appears under Census Records as the 1921 Census Substitute on TheGenealogist and encompasses a period currently not served by a published census. With this release the total number of records is boosted to 1.75 million heads of household.
The fully transcribed, searchable records allow researchers to: search on forename, surname and profession; search by street, town and county; look for a business name; discover ancestors' addresses; and find professions listed.
These 1921 directories cover Nottingham, Glasgow, Leicestershire & Rutland, Derby, Shropshire, Kent and add to those already released for Aberdeen, Bath, Berkshire, Bradford and Surrounding Districts, Bristol and Suburbs, Brixton and Clapham, Buckinghamshire, Cambridgeshire, Channel Islands, Cheshire, Cumberland, Dorset, Durham, Hessle, Hull, Lincolnshire, London, London County Suburbs, Middlesbrough, Norfolk, Northumberland, Oxfordshire, Somerset, Suffolk, Westmorland, Wiltshire, Worcestershire and Yorkshire. If you have ancestors that you are tracing in the 1920s then this new release from TheGenealogist adds a fantastic name rich resource for you to use.
At a time when we are celebrating the centenary of women starting to get the vote, this article shows how these newly released records can be used to find some people with suffragette connections: https://thegenealogist.co.uk/featuredarticles/2018/1920scensus-substitute-reveals-thesuffragists-tea-room-836/.
Change of names database plus further colour tithe maps released
TheGenealogist has just released a great new resource for family historians wanting to find ancestors who had officially changed their forename or surname in Britain. The Change of Names Database covers information gathered from a number of sources including Private Acts of Parliament; Royal Licences published in the London and Dublin Gazettes; notices of changes of name published in The Times after 1861 with a few notices from other newspapers; registers of the Lord Lyon [King of Arms] where Scottish changes of name were commonly recorded; records in the office of the Ulster King at Arms and also some private information.
Use this database to: discover ancestors who recorded a change of name; find what name had been adopted and the discarded name.
This resource is available to Diamond Subscribers and can be found under Miscellaneous Records.
Read an article on the fascinating Change of Name Database at: https://www.thegenealogist.co.uk/featuredarticles/2018/change-of-namedatabase-discovers-ancestorswho-adopted-different-surnames-846/
TheGenealogist has also now added the Colour Tithe Maps for the North Riding and the East Riding of Yorkshire. Complimenting the already released schedule books and greyscale maps, these colour maps add an attractive visual aid to find where your ancestor lived in the mid 1800s.
The fully searchable tithe records released online allow researchers to: find plots of land owned or occupied by ancestors in early Victorian North Riding and East Riding of Yorkshire on colour maps; see where your forebears lived, farmed or perhaps occupied a small cottage or a massive estate.