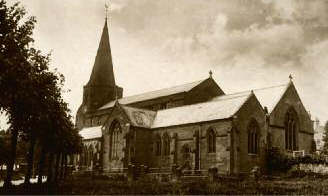 TheGenealogist has added over 1.5 million individuals to its Warwickshire Parish Record Collection to increase the coverage of this Midland county for researchers wanting to find their ancestors baptisms, marriages and burials.
This is the final release of records published in association with Warwickshire County Record Office, now totalling nearly five million individuals and which have the benefit of high quality images to complement the transcripts, making them a valuable resource for those with ancestors from this area.
These new fully searchable records can be used to find ancestors from the parishes of: Aston Cantlow, Berkswell, Combrook, Coventry All Saints, Coventry St Peter, Coventry St Thomas, Dunchurch, Exhall, Fillongley, Foleshill St Paul, Grandborough, Hampton in Arden, Harbury, Haseley, Hillmorton, Ilmington, Kenilworth St Nicholas, Kineton, Kingsbury, Lapworth, Leamington Hastings, Leamington Spa St Paul, Lighthorne, Lillington, Long Compton, Long Itchington, Meriden, Middleton, Napton-on-the-Hill, Nether Whitacre, Newbold Pacey, Newbold-on-Avon, Newton Regis, Packwood, Polesworth, Preston-on-Stour, Priors Marston, Quinton, Radford Semele, Radway, Rowington, Rugby St Andrew, Rytonupon-Dunsmore, Salford Priors, Shustoke, Snitterfield, Southam, Stockingford, Stockton, Stoke, Stoneleigh, Stretton-on-Dunsmore, Stretton-on-Fosse, Studley, Tanworth in Arden, Tredington, Tysoe, Walsgrave-on-Sowe, Warmington, Welford, Wolfhamcote, Wolford, Wolston, Wolvey and Wootton Wawen.
These new parish records are available as part of the Diamond Subscription at TheGenealogist.
Read TheGenealogist's article that finds the baptism of the poet Rupert Brooke and 1887 burial of one Rugby headmaster who turned the school around here: www.thegenealogist.co.uk/featuredarticles/2018/warwickshireparish-registers-reveals-rupert-brookesbaptism-in-rugby-997/.
WW1 officer data released
To mark the end of World War One that came to a close on 11 November 1918 with the signing of the Armistice, TheGenealogist has released more than 42,000 records of officers that died in the Great War, along with additional Rolls of Honour and over 30,000 war memorials and war grave plans, maps and listings.
These fully searchable records join an already strong WW1 collection on the site, providing a highly useful resource for those seeking their ancestors caught up in the conflict.
The new records include details of an officer's rank, cause of death, date of death and regiment.
Chris Baker from The Long, Long Trail website and www.fourteeneighteen.co.uk commented: "TheGenealogist has got itself a very interesting collection of niche records that can really help you unlock the story of a soldier."
To learn more about these records, see www.thegenealogist.co.uk/featuredarticles/2018/how-tofind-officers-that-died-in-ww1-983/.