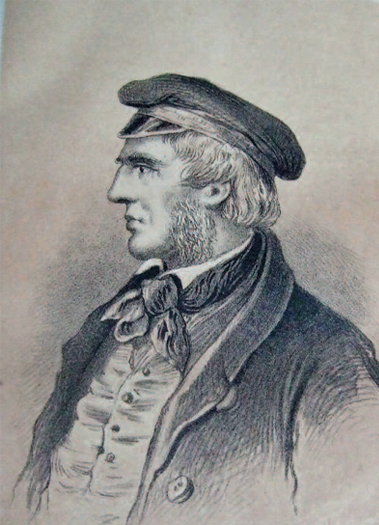 It will not have escaped the notice of regular readers that recently TheGenealogist's researchers have been busy at work in expanding the site's online parish records for Northumberland. Over 1,300,000 of these records relating to baptisms, marriages and burials are now fully accessible via the site's easy-to-use search engine. In some cases, these records can take a lucky family historian back to the early days of Queen Elizabeth I. I have lived in the north east of England for almost 50 years and contributed historical articles for a number of years to a magazine called The Northumbrian and am thrilled to discover how useful these new online records are.
Take, for example, the Charltons, Milburns, Robsons and Fenwicks. To fans of association football all these surnames will mean something (especially when Christian names such as Bobby, Jackie, Bryan and Terry are added on). In years past, people with these surnames were to be found along the Northumbrian coast and up the valleys leading up to the Scottish border. The competitive nature of the footballers may well have been genetic as many of their ancestors lived through the great age of the border reivers when family set itself up against family in defence of house, home and (in particular) cattle. These surnames turn up regularly in the earliest of records released by TheGenealogist as the following examples show.
There is, for example, a Susanne Milburn whose marriage took place in 1670 at Longhoughton and a Diana Milburn married at Berwick upon Tweed in 1672. Robert Robson appears in the deaths and burial records for 1664 Whalton. Many a baptism, marriage and burial occurred for various Thomas Fenwicks – including one married to a Dorothy Lee at Hexham in 1728.
When the news of TheGenealogist's new Northumbrian additions was released to the press, the sample entry provided concerned the baptismal record of national heroine Grace Darling (1815-1842). Grace's place in history was secured by a single deed of bravery when she aided her father, a lighthouse keeper, in saving the lives of the crew of the stormbound Forfarshire in 1838. Her baptism can be viewed at the site, along with her tragically early death and burial, as can the marriage of her parents in 1805.
As a result of Grace's bravery, her story has formed a part of the English primary school history curriculum for many years.
Northumberland is rightly known for its part in the early development of the railway. Two Northumbrians with humble roots were heavily involved in this. The more famous of the two was George Stephenson, renowned for his involvement in the construction of the first northern railways and also for his rather fortuitous victory in the Rainhill Trials with his engine – the Rocket. His baptism at Wylam in 1781 turns up in TheGenealogist's records;
His marriage in 1802 to his wife Frances is also there.
Another famous steam locomotive engineer, Timothy Hackworth, was born in December 1786, close to the birthplace of George Stephenson. However he was not baptised until the following year.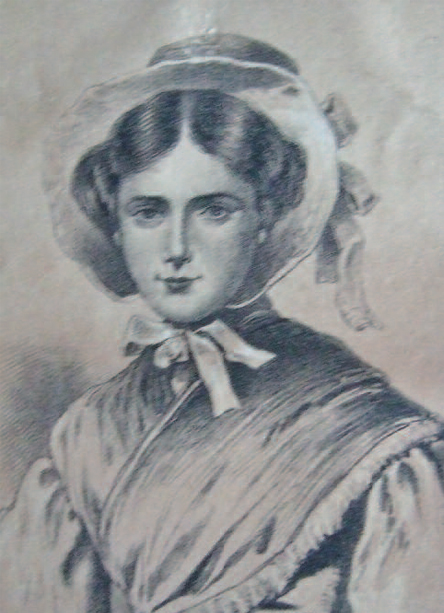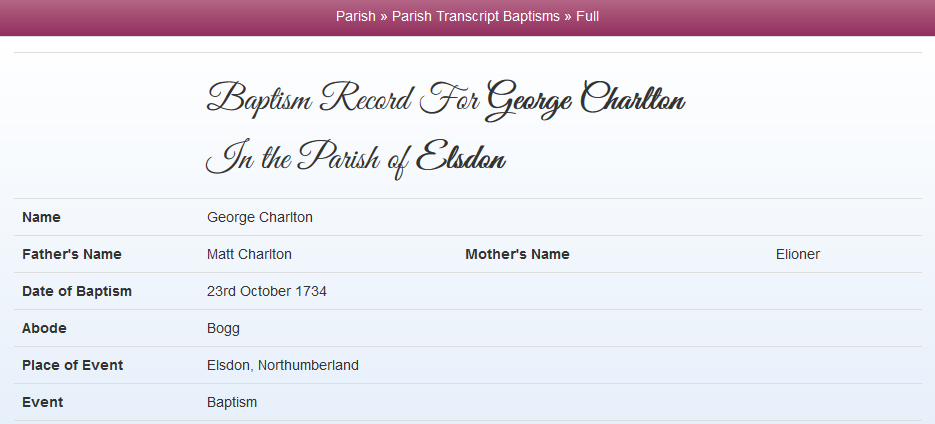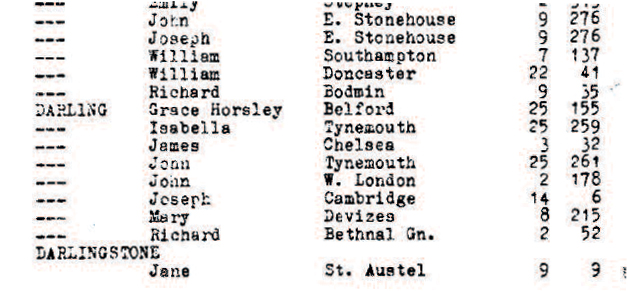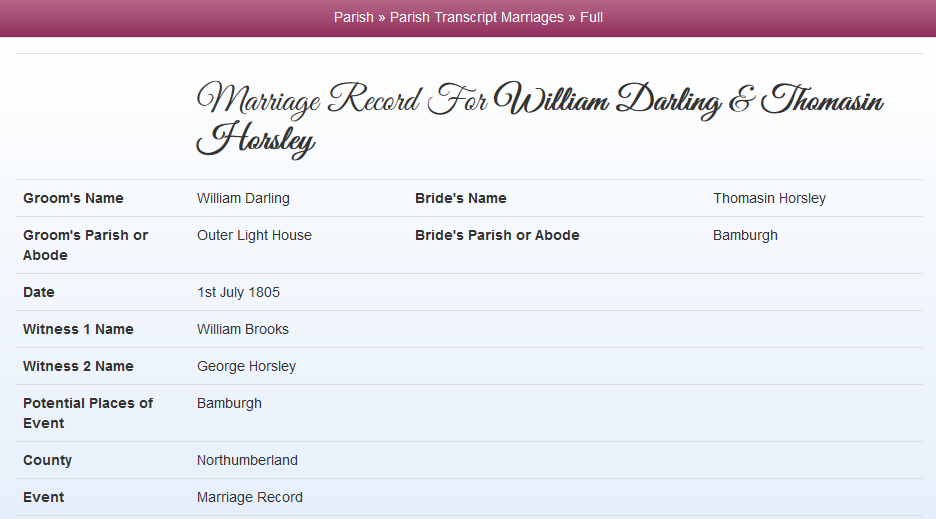 His parents' marriage is also traceable (especially as both their names appear on Timothy's baptismal record). His father John was a senior blacksmith in the local colliery; and his marriage to Elizabeth in 1781 can be found in these records.
Timothy was heavily involved in the organisation of the far-famed Stockton and Darlington Railway and had a part to play, as engineer, in the construction of the original Puffing Billy. His biographies note that he took over his father's role on the death of father John in 1804. John's burial is also on record for 1804.
The exact legal relationship between the city of Newcastle upon Tyne and the county of Northumberland is often unclear but records for the city turn up in the new record set on TheGenealogist. Tyneside (including the south side of the River Tyne, which was in County Durham) has long had a reputation for producing musicians and entertainers. Among these were singer and song writer Joe Wilson (1841-1875), who has recently been the subject of major biography as well as a blue plaque placed near his birthplace. His most famous composition was 'Keep Your Feet still, Geordie Hinny'. He was one of twins and his baptism and that of his brother Tom can both be accessed on TheGenealogist site. Their birthplace in Stowell Street is at the heart of the city's Chinatown today.
Researchers can also access the marriage to his 'Bella' of legendary actor, pipe player, comedian and magician Billy Purvis (1784-1853) who took his shows around the far north in the 19th century. Statues were sold of Billy and these were copied to such an extent that 'original Billy Purvis' had to be stamped on the base of genuine ones. For those long in the tooth he was a cross between Roy Castle, Les Dawson, Bruce Forsyth, Laurence Olivier – and, for the more modern, perhaps Mrs Brown!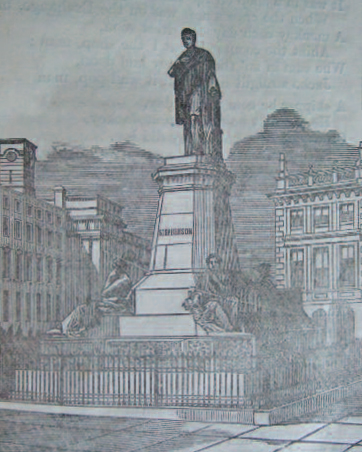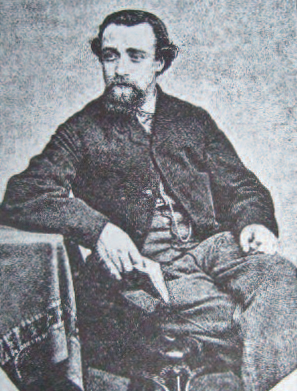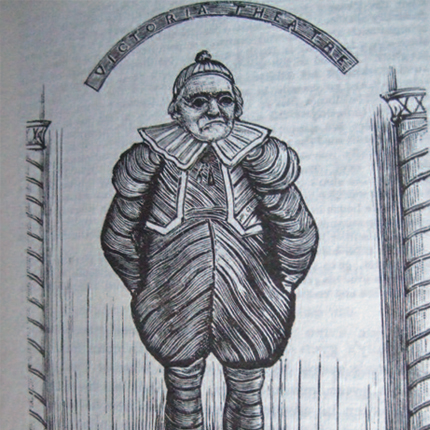 Two famed Northumbrians turning up in the records are Lord Armstrong and Earl Grey – the former of fairly humble birth; the other from aristocratic stock.
William George Armstrong (1810-1900) was the son of a Cumbrian villager who had headed east and made a name for himself as a corn factor in Newcastle. (The Armstrong family was one of the most feared of the reiving families mentioned above.) Son William gained renown for 'Armstrong's Factory' on the Tyne which manufactured munitions including the Armstrong Gun. This factory is remembered in the Tyneside anthem 'The Blaydon Races' and William's home at Cragside is one of the most popular stopping off points for visitors to the region. Though born in 1810, his baptism was not until 1811, as we find by searching in TheGenealogist's records.
Not so humble, but possibly more important historically, was Charles Grey (1764-1845) who, as Earl Grey, was prime minister at the time of the Great Reform Act of 1832, has a towering column dedicated to him in central Newcastle as well as a significant street bearing his name. Despite this he is perhaps best known worldwide for his interesting flowery contribution to the world of tea. His baptism was written in the registers for 1764.
His 20th century descendant, foreign secretary Edward Grey, was known as 'Grey of Falloden'.
As noted above, thousands of ordinary Northumbrians appear in these parish records including many who made names for themselves in foreign climes. Edward Stamp (1815-72) was a successful sailor and businessman who was involved in the Crimean War then set up business in what is now Vancouver, Canada. He is recognised as a founder of the city and his saw mills stood on the site of the famed Stanley Park. His family came from Alnwick and his father was a humble tanner. By using the Northumberland parish records on TheGenealogist his christening in 1815 can easily be found.
It is also worthy of note that Northumberland searches may lead researchers to local Non-conformist records in the RG4 series held at The National Archives. Continuing the emigrant theme we discover John Minto (1822-1915), who moved to Oregon and became a significant farmer and republican politician. His parents came from rural Northumberland. Their marriage turns up in parish records for 1820 and the son's baptism in the Non-conformist registers in 1822.
Finally, the RG4 series reveals the baptism of a convict who was born in Northumberland and transported to Australia where he eventually gained his freedom and set himself up as a highly successful farmer and pillar of the local community. Ralph Hush's biography is worth studying online. He lived from 1779 to 1860. Ironically, considering his future success, he was convicted and transported for sheep stealing!