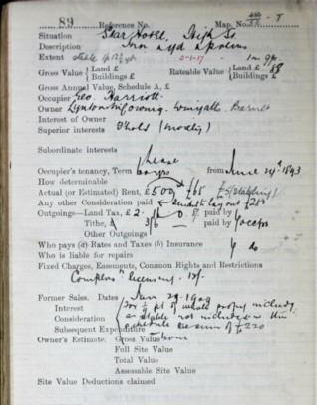 TheGenealogist has released the second part of its exciting new record set, The Lloyd George Domesday Survey. This major new release can be used to find where an ancestor lived in 1910 in the area around Barnet, Edgware, Finchley, Friern Barnet, Hendon and Totteridge. This unique combination of maps and residential data, held by The National Archives and being digitised by TheGenealogist, can precisely locate your ancestor's house on large scale and exceptionally detailed hand-annotated maps that indicate the exact property.
Researchers often can't find where ancestors lived as road names changed over time, the Blitz saw areas bombed to destruction, developers changed sites out of all resemblance from what had stood there before and lanes and roads were extinguished to build estates and office blocks. All this means that searching for where an ancestor lived using a website linked to modern maps can be frustrating when they fail to pinpoint where the old properties had once been.
Complementing the maps on TheGenealogist are the accompanying Field Books that will also provide researchers with detailed information relative to the valuation of each property, including the valuation assessment number, map reference, owner, occupier, situation, description and extent.
This mammoth project is ongoing with over 94,500 Field Books, each having hundreds of pages to digitise with associated large scale IR121 annotated OS maps. This second release from TheGenealogist includes these more detailed IR58 Field Books which feature more information about the properties that have been surveyed.
The new records join the City of London and Paddington Index and maps already released. More areas are coming soon for other London Boroughs and the county of Buckinghamshire. Find out more at: https://www.thegenealogist.co.uk/lloyd-george-domesday/.