On the campaign trail
With such a considerable amount of military records now available on TheGenealogist, Nick Thorne indulged his curiosity to discover more about a famous First World War general, and find out about the man behind the name.
As a young boy, growing up in Jersey, my grandparents arranged and paid for me to go to Victoria College on the island. Being steeped in old-fashioned values they believed n getting the best education that they could for me, their rather unacademic and unpromising grandson. So it was that in 1966 I found myself, slightly intimidated by the prospect, entering into an institution with a history stepping back to Queen Victoria's reign. On starting I was allocated to a school house that was names 'Braithwaite' and I would remain in this house all throughout my school career. Yet, as a pupil, I hadn't much of an idea who Braithwaite was. I had a vague awareness that he was an old boy and a great soldier that had 'achieved something with his life.' My assumption was that the school had hoped that his example would inspire me and my fellow intake into Braithwaite, so as to lift our sights to his lofty heights.
From the school's current website I discovered I discovered that the house bears the name of Sir Walter Pipon Braithwaite, one of five brothers who were all at Victoria College. I was probably taught this, as a child, but like much of what school tried to impart to this once benighted and ignorant schoolboy, these details simply hadn't stuck in my mind.
W P Braithwaite entered Victoria College, Jersey in 1875. He then went to Bedford School in 1881 and subsequently joined the Arm going to the Royal Military Academy. He served with distinction in Burma and South Africa and in both campaigns was mentioned in despatches.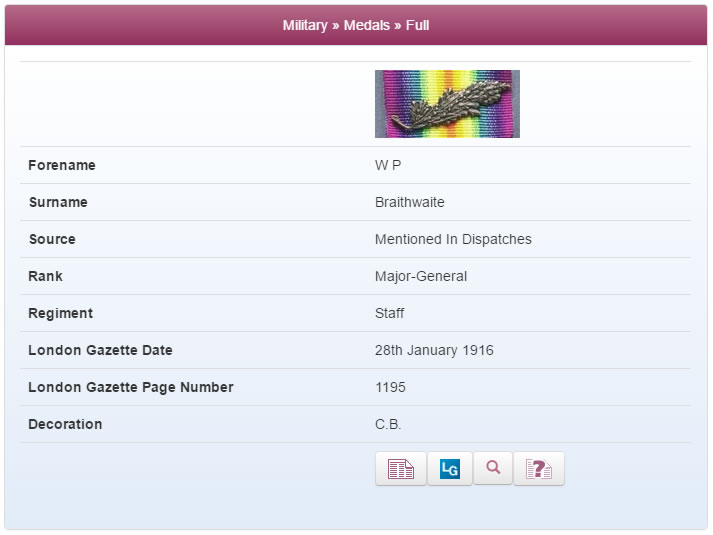 Beginning with the census collection on TheGenealogist I as able to find Walter Pipon Braithwaite and his family in the 1871 Census as a five-year-old and again in 1881, aged 15. He and his 11 siblings were living with their parents in one of a grand terrace of houses that, even to this day, are but a stone's throw away from the lower gate of the school grounds. Immediately I could see that his father was a clergyman, born in England and his mother had been born in Jersey. All of the children in the household, bar the youngest, had been born in England and that included Walter. By the census if 1881 the Reverend Braithwaite had passed away and now his wife was the head of the household.
Wanting to find out more about the man I turned to the extensive military records on TheGenealogist. I was immediately rewarded when I was able to discover WP Braithwaite within the First World War records as having been mentioned in despatches twice in 1917 and again in 1918.
With anyone that served throughout the First World War, it is possible to trace them in the campaign records of The Genealogist by looking at their medal card. In this case Lieutenant General Braithwaite's card tells us that he was on the general staff and was entitled to the 1914-15 Star, the British War Medal, the Victory Medal and the mentioned in despatches emblem. The theatre of war that he served in is given as Gallipoli.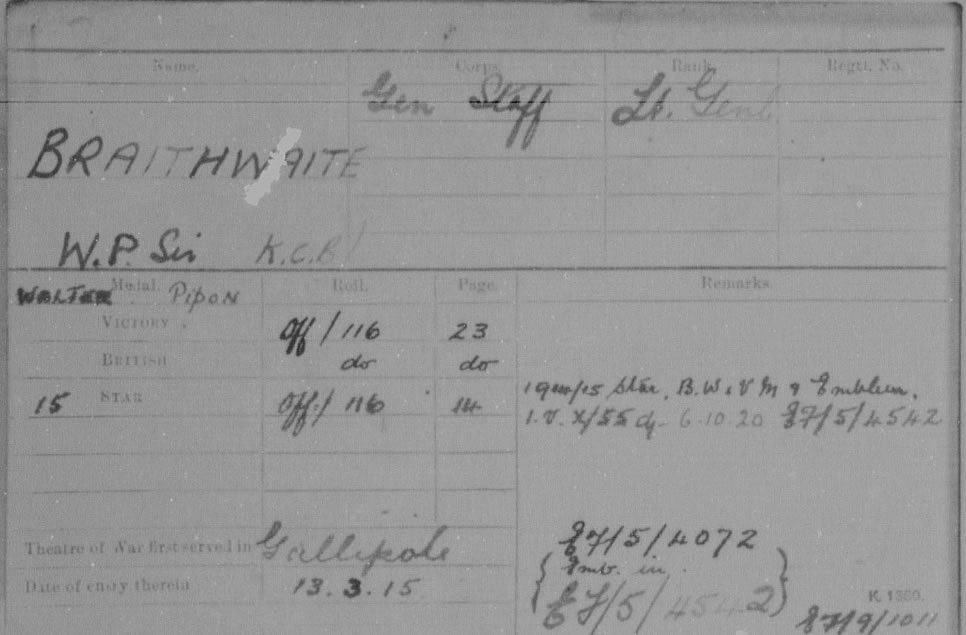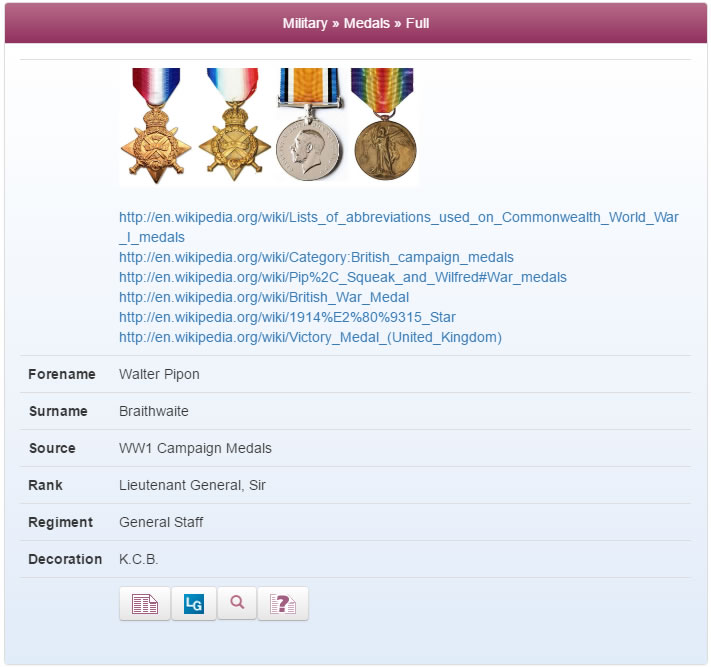 Background research, on the school website, explained that Braithwaite had been made a CB (Companion of the Order of the Bath) and became Director of Staff  Duties at the War Office in 1914. In 1915 he became Chief of Staff, Mediterranean Expeditionary Force and later commanded the 1X Army Corps. He was knighted (Knight Commander – KCB) and then awarded the honour of GCB (Knight Grand Cross). He became ADC (aide-de-camp) to King George v and from 1931 to 1938, by now a lieutenant general, he was made Governor of the Royal Hospital, Chelsea. In 1933 Sir Walter Braithwaite was appointed Bath King at Arms and his death occurred in 1945.
When researching a person who served in the First World War another very valuable resource to be found on The Genealogist is the newspapers and magazines collection. Entering his details and the war dates I was able to find Major General Braithwaite in several publications including the Great War, issue number 64 for 6 November 1915 as one of 100 Great War heroes they featured.
With the number of resources available on TheGenealogist for family history researchers it makes it easy to delve into your ancestor's past.