In 1912 we can learn from the Overseas BMD records on TheGenealogist that he married Marie Louise Eugénie Beer in Paris, the wedding being registered with the British Consul there. As with any ancestors in the Overseas BMDs, the references provided by these records make it possible to order a certificate from the GRO in Southport to glean further details.
At the outbreak of World War I, Lionel's younger brothers Evelyn and Anthony both joined the British Army. Lionel, however, being the eldest son was needed as the heir to take over the family's NM Rothschild & Sons banking house and so, no doubt to his frustration, he had no choice but to remain at home. In spite of this, he held the rank of major in the Royal Buckinghamshire Yeomanry and served the Army by carrying out recruiting duties in the conflict. Both of Lionel Rothschild's brothers were wounded in battle, with Evelyn dying of his injuries at the 1917 Battle of Mughar Ridge. A search of the military records on TheGenealogist reveals that Lionel de Rothschild, nonetheless, appears in the Roll of Honour for Cambridge University and we can also find his World War I campaign medals from a search of the military records on TheGenealogist.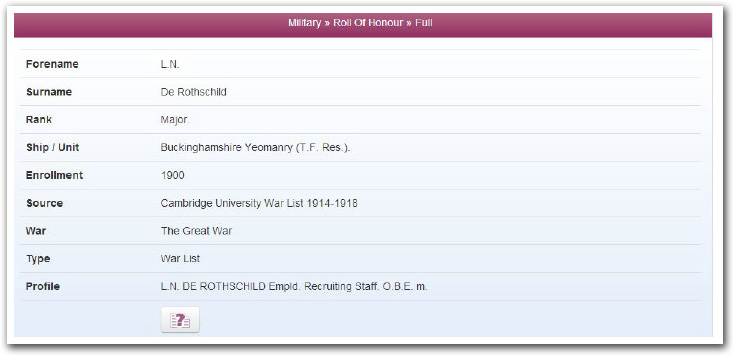 Lionel's father, Leopold, was to die in early 1917 and this meant that he and his brother, Anthony, now became the managing partners of NM Rothschild & Sons bank. Lionel, however, had developed an interest in horticulture at a very young age, reputedly having planted his first garden at the age of five. In 1919 he purchased the Mitford estate at Exbury in Hampshire and it was here that he devoted a great deal of time and money transforming it into what, some say, is one of the finest gardens in England with more than one million plants. Lionel went on, in the 1920s, to build Exbury House around an existing structure in a neo-Georgian style. Lionel de Rothschild's horticultural interest saw him co-sponsoring planthunting expeditions to isolated areas of the world, such as the Himalayas, in order to collect seeds for plant growth and experimentation. It is reported in several horticultural articles that he developed 1,204 new hybrids of rhododendron and azalea that were recognised and sold around the world. Despite continuing to work at the family bank, he described himself in a quote as 'a banker by hobby – a gardener by profession'.
Lionel Nathan de Rothschild died in London, aged 60, in 1942 and was buried in the Willesden Jewish Cemetery. His son Edmund assumed the management of Exbury Gardens and would go on to put in place a charitable trust to manage the property. In 2001, the American Rhododendron Society recognised Lionel Nathan de Rothschild's significant contribution, posthumously bestowing on him a Pioneer Achievement Award.