In the case of William and James Lightfoot - see the case study box - a large crowd gathered to watch their final moments. From reports at the time: "Upwards of ten thousand persons had assembled to witness the dreadful end of the unhappy wretches, and but little commiseration was exhibited for their fate."
The new records at TheGenealogist include full information on each case, including names, aliases, the name of the court, the offence committed and the length of the sentence or whether the prisoner was acquitted. There were a variety of sentences for criminal activity ranging from the death penalty to transportation to the colonies to a standard prison sentence.
Statistics show that Wiltshire, Hereford and Essex carried out the greatest number of executions in the 1800s while the courts in Lancashire, Yorkshire and Durham spared the lives of the most prisoners.
Not all prisoners were executed, of course, and there were other punishments available including imprisonment or transportation to penal colonies in places such as Australia. Records show, for example, the transportation of one man for seven years for stealing onions and another transported to New South Wales for a term of seven years for stealing table linen.
James Hicks, born in 1804 is another example. He was convicted of stealing two lambs worth 40 shillings at Hertford Assizes, along with three other men. In 1829 this was considered a capital crime and he was initially sentenced to death.
But six days later this was commuted to life transportation and he found himself on board a ship, the Mermaid, with nearly 200 other men. TheGenealogist has a copy of this record, as well as his transportation record. The ship left Sheerness on 2 December 1829, arriving at Port Jackson five months later on 6 May, 1830, with two men having died en route.
TheGenealogist already has a large collection of transportation records from TNA series HO 10 and HO 11 - in total the site now has around half a million crime-related records.
Not all prisoners were convicted, however. Around 35% of those recorded were actually found 'not guilty', a much higher rate of acquittals than levels today. The Criminal Records collection at TheGenealogist - under the Court and Criminal Records section - can allow you to discover that missing ancestor and why they may not have appeared on the usual records available to family historians.
With many of our ancestors struggling for survival and living in poverty it is no surprise many fell foul of the law. However, the 'Bloody Code' deterrent that the Victorian authorities so believed in nowadays appears exceptionally harsh and many of our ancestors were transported to the colonies or, even worse, received the death sentence for the most minor crimes.
HIGH-PROFILE MURDERS
Listed in the new records at TheGenealogist can be seen a summary of two high profile murder cases at the time. In 1840, brothers William and James Lightfoot robbed and then murdered highly respected timber and general merchant, Nevill Norway (great grandfather of well-known novelist and engineer, Nevill Shute) near Bodmin, Cornwall. They were subsequently tried at Bodmin Court by Mr Justice Coltman on the 30th March, 1840.
With overwhelming evidence against them, the two prisoners faced an inevitable fate. The court notes at the time declared: "The learned judge having then summed up the evidence, the jury returned a verdict of 'guilty'. Mr Justice Coltman passed the awful sentence of death in the most feeling terms."
Here we see a copy of the record of William Lightfoot at TheGenealogist, with his crime and punishment listed: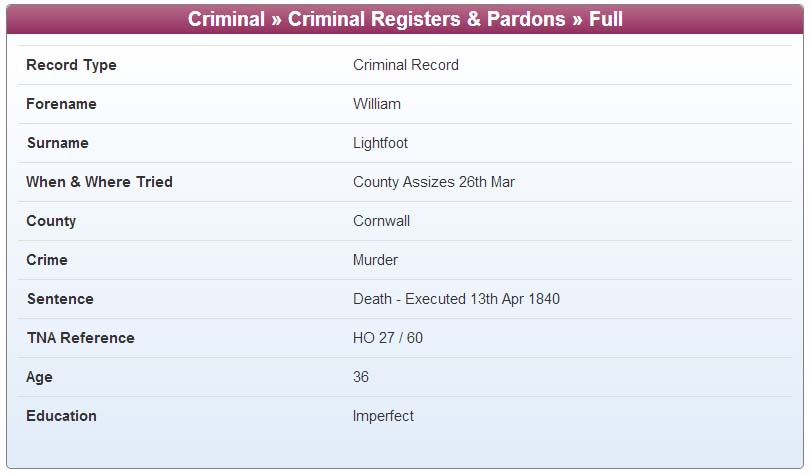 Another high profile criminal case listed on TheGenealogist involved William Griffith, who was the first man to be hanged at the new Beaumaris Prison in 1830, for the attempted murder of his wife, Mary. Separated from his wife, he had visited her where she lived with their daughter and he had then become extremely violent. The dreadful nature of the attack ensured he was given the death penalty and a big crowd gathered at his execution too.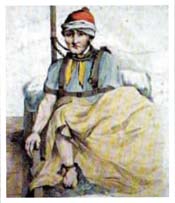 An inmate at Bethlehem Hospital in 1815 - better known as 'Bedlam'