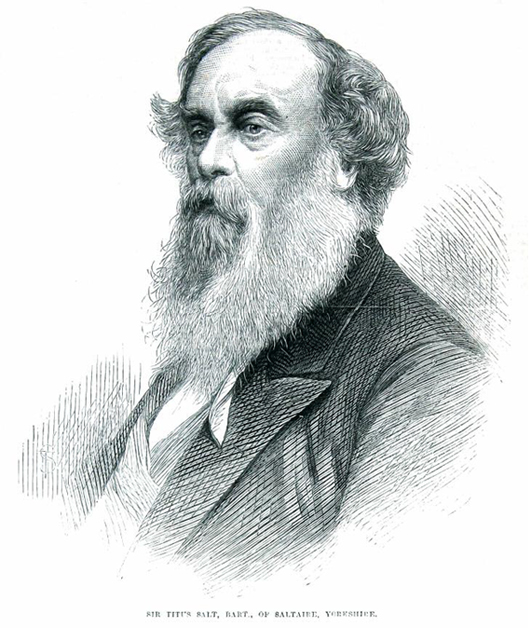 Building a good family history story for an ancestor requires more than just gathering together their vital dates and the names of their parents and children. It can be so much more interesting when we can add to the telling of their tale some fascinating information from other records – records such as those reflecting the environment where they lived or worked.
As an example, let us research Sir Titus Salt using some of the rich resources available on TheGenealogist. Born on 20 September 1803, Titus Salt had been born in Morley, near to Leeds. In adulthood, he was a successful textile manufacturer, politician, and philanthropist in the West Riding of Yorkshire. Salt is best known for building a better environment for his employees to work in. Being concerned about the conditions that his Bradford-based workers endured, at a time when cholera could strike those living in poor surroundings, he moved his operation to a cleaner and better location when he developed a mill and a model town on the banks of the River Aire. Salt's Mill had superior light, ventilation and warmth in comparison with the other mills at the time.
Salt was motivated by his Christian beliefs. Searching for his birth or baptism in the records shows that he was brought up in the Congregationalist church. Using TheGenealogist's Master Search we find the entry for Titus Salt's baptism on 9 November 1803 in the RG4 Non-parochial Registers 1567-1858. These Nonconformist records can be useful when researching an ancestor whose family did not belong to the Church of England. Reaching as far back as the mid-1600s, when various religious groups found they could not conform to the Church of England and wanted the religious freedom to worship in their own way, these records are for groups including Presbyterians, Congregationalists, Baptists, Quakers, Methodists, Catholics and Unitarians.
Searching the records
From Salt's baptism record, on TheGenealogist, we discover he was the son of Daniel and Grace Salt of Morley in Batley, Yorkshire. His father was a cloth merchant, who then went into farming. As Titus Salt was to become famous, a search of TheGenealogist's occupational records finds an entry in The Dictionary of National Biographies. If you too have an ancestor who merited an entry in this publication, then you can glean some valuable information about them from this source. For example, the entry tells us that Salt's mother, Grace, was the daughter of Isaac Smithies of Morley. We find out that when Salt was ten years old his father gave up the business of white cloth merchant and drysalter to farm at Crofton in Wakefield until 1822. Then he went back into business in Bradford as a wool-stapler or wholesaler and two years later Titus Salt joined his father's business as a partner.
We also discover that the younger Salt was responsible for an innovation in the business. He found a way to use a difficult type of Russian wool called Donskoi. Salt's fortunes took off and he expanded to own four mills of his own in Bradford and then found a way to use alpaca hair in textile products. Being concerned by the working conditions of his Bradford Mills, he moved his operation to a much better environment. Firstly he built a modern mill and then he went on to construct the workers a healthier model town that was named Saltaire, amalgamating his name with that of the river on whose shore it sat.
Unique resource
One of the unique record collections on TheGenealogist is the National Tithe Collection of maps and accompanying apportionment books for the majority of England and Wales. The records of the tithe survey may show you where ancestors were living and who their neighbours were in the early years of the Victorian period. It is possible to discover information on crop acreages, field names, house occupancy, rights of way and parish boundaries in this collection. Tithes had been an annual charge of one tenth of all agricultural produce that had to be paid annually to support the local parish church and its clergy. After the Reformation a great deal of the land passed from the Church to lay owners and these new tithe owners inherited the entitlement to receive the payment instead of the Church.
By the early 19th century, tithe remittances had become unpopular. This was at a time of increased industrialisation, religious dissent and agricultural depression, so the government introduced the 1836 Tithe Commutation Act that required tithes in kind to be converted to monetary payments called tithe rent-charges. The tithe survey was needed so that the authorities could discover which areas were still subject to tithes and who owned these rights, along with the amounts payable and to whom they were paid.
Using the digitised records on TheGenealogist you can find the plots of land that an ancestor owned or occupied in the period between 1837 and the 1850s, where the land was still tithable. There are also some later records for altered apportionments when a sale took place and was recorded. By looking for Titus Salt we see two plots of land occupied by him on the outskirts of Bradford, at Manningham, in December 1848. The apportionment book tells us that one plot is pasture and the other meadow land – but there is also a mill marked on the map where these two plots intersect.
Also of interest, as it relates to Titus Salt, is the area a few miles north of Manningham on the tithe map for Shipley. To the left of the conurbation, marked on the tithe map from 1849, is where Saltaire town would be built in the years following this survey. The tithe maps capture the terrain as it was before its development into a Victorian model town and the patchwork fields contrast with the urban streets drawn on an Ordnance Survey map from the 1890s to 1900s. Ancestors who knew it as rural landscape would find it unrecognisable.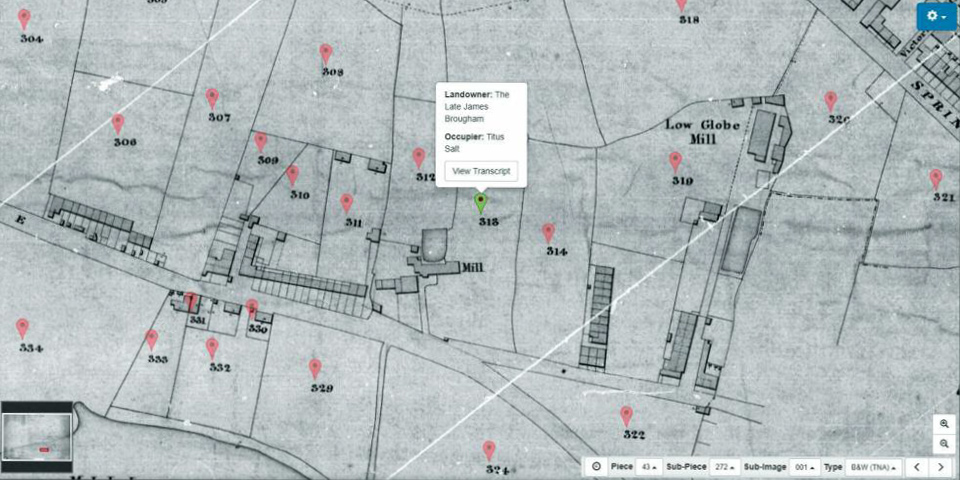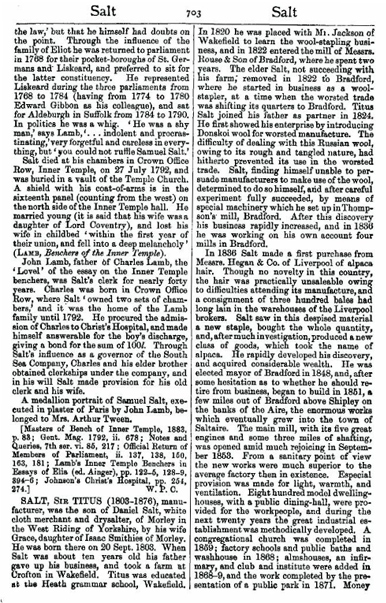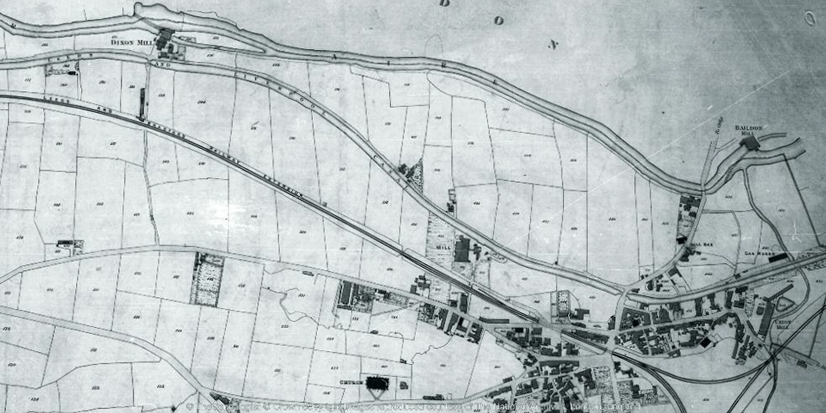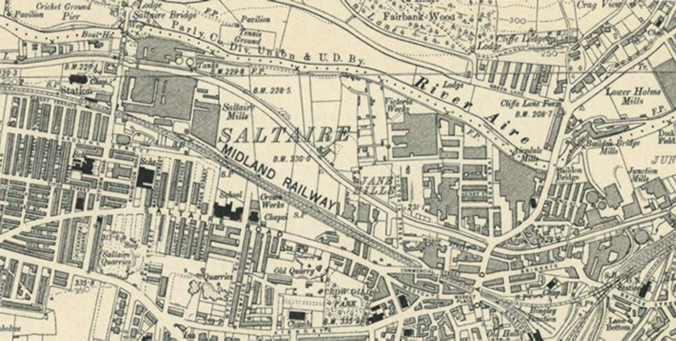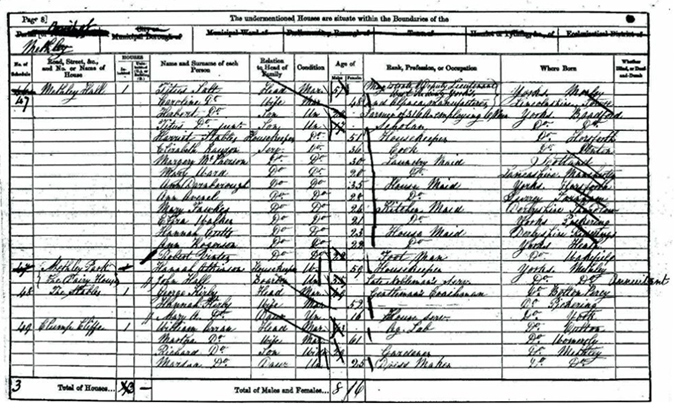 The census
To find where our ancestors lived in the years between 1841 and 1911 we often turn to the census collections. These records give us more than just the address of where people lived and following our forebears through each decade can give us an insight into how our ancestors' lives developed. TheGenealogist allows us to find Titus Salt, a 35-year-old worsted manufacturer, and his family living in the town centre in Bradford's 1841 census.
Looking forward, to the 1851 census, shows how the businessman is showing signs of his success; he is now living at Crow Nest, Hipperholme Cum Brighouse, Halifax. This mansion and estate are no longer in existence, but the current occupiers, the Crow Nest Golf Club, have published a potted history online. This reveals that Salt first rented the house for 14 years from 1844 until 1858. His lease ended when a member of the owning family took it back to live there themselves.
With the end of his lease Sir Titus Salt moved to Methley Hall, near to Leeds until 1867. This explains why in the 1861 census on TheGenealogist Salt and his family are enumerated that year at Methley Hall. In 1867, however, the owner of Crow Nest put it up for sale and Sir Titus then purchased it for £26,500 (about £2,230,000 today) and he lived out his days in the house. The last census in which Salt appeared was the one taken in 1871; Sir Titus, his wife and daughter Amelia, are to be found in a hotel on London's Regent Street on census night.
Sir Titus Salt was to pass away at his home, Crow Nest, in December 1876. As the death occurred at the end of the month, it was only registered in Halifax in the first quarter of the next year as can be seen from the Civil Registration records.
TheGenealogist has a diverse range of records that can be used when researching our family history including civil registration of births, marriages and deaths, the census collection from 1841 to 1911, Church of England parish records and the Nonconformist records. TheGenealogist's SmartSearch makes searching across records relating to a person easy by simply clicking the link at the bottom of the transcript. TheGenealogist is also the only place online with access to the unique National Tithe Collection, which can be used to examine the landscape of the early Victorian period and find plots of land both owned or occupied by your ancestors. Our example of Titus Salt made use of the records on TheGenealogist which you too can use to find your own ancestors.