Ancestors
Ancestors magazine was published by Wharncliffe Publishing Limited and The National Archives. It has now ceased publication.
Shropshire 1871 Census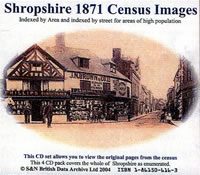 Shropshire 1871 Census Images (S&N British Data Archive £34.95) contains digitized copies of the original pages and enables those with Shropshire ancestry to go through this census at leisure in the comfort of their own homes.
©2023 S&N Genealogy Supplies