Yorkshire folk are 'right proud' of their sporting heritage and it is likely that our Yorkshire ancestors will have taken part in some form of sporting activity and that this activity may have been recorded. There may, however, still be pitfalls in carrying out the research necessary to track their deeds. In the 19th century, for example, what we now regard as a sport was often classified as a pastime. On the other hand, shooting, fishing, stalking and hunting were regarded as sports. This can often cause problems when looking out for, say, football ancestors in Victorian sporting literature.
Similarly, the difference between amateur and professional sportsmen is not always clear. Whereas Victorians and Edwardians often distinguished one from the other by including or omitting Christian names or initials, in fact many 'amateurs' received under-the-table boot money. At the same time gentlemen amateur players could enjoy a complimentary cigar worth more than the single-match appearance money earned by a professional cricketer! Even a definition of Yorkshire itself can cause problems as Sporting Yorkshire is different from the elements which make up the modern 'political' Yorkshires. Places now removed from Yorkshire political life such as Middlesbrough and Redcar in the east and Sedbergh in the west were linked to Sporting Yorkshire in the past and remain so today.
In my book Sporting Ancestors (2012) I explored more than 30 sports of historic interest to those with British roots. In such a short space as this article it is not possible to cover them all in detail so I shall focus on a handful of sports, with the main thrust dedicated to 'the round and the oval' (ie association football, rugby league and union) and to cricket as well. There is also a sideways glance at sports which attracted female interest. With the aid of TheGenealogist's easy to use search engines, it has been possible to find a number of examples of Yorkshire sportsmen and women which might whet the appetites of readers for further personal research.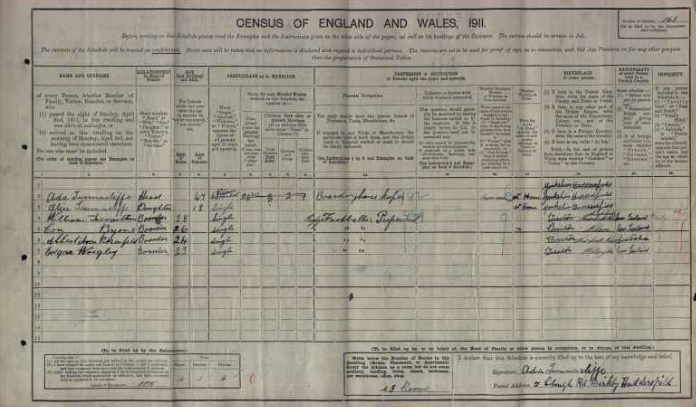 Football and Rugby
Yorkshire features large in the history of 'the round and the oval', boasting the first football club in the world – Sheffield FC (1857). Twenty years later the sporting county challenged the world of rugby football by introducing a county challenge cup. (At the time the powers that be favoured friendly fixtures alone). Even more controversial was the 1895 move, along with Lancashire and Cheshire, which gave birth to what we now call rugby league. At the time it was known as the Northern Union and played the same game as union for some time while rewarding players for time lost to regular work through playing and training. The examples gathered here via TheGenealogist cover four rugby league players in a Huddersfield Boarding House in 1911. First there was international rugby league and union player Dickie Lockwood, described as a wire temperer in the 1901 census, and then there was Bradford international Donald Jowett down as a brewer's traveller in 1891. The part-time nature of some sports plus the stigma of professionalism at times explains why sportsmen often did not describe themselves thus when providing information for the censuses.
On the 'football' front Yorkshire had a part to play in developments from the mid-19th century onwards and by 1900 the likes of Sheffield Wednesday, Sheffield United, Middlesbrough Ironopolis, Rotherham Town and Barnsley had made their mark. In 1896 professionals from the Sheffield clubs represented England at football. As with the rugby fraternity, footballers were not always certain to appear as such in official records as many were part time or amateur. An example of such a footballer is William Harrison Johnson (1876-1940) who played over 200 games for Sheffield United, six times for England and was an FA Cup winner. Born in Ecclesfield, he appears on all four censuses from 1881 to 1901 and only receives a reference to his footballing links when he has retired into training.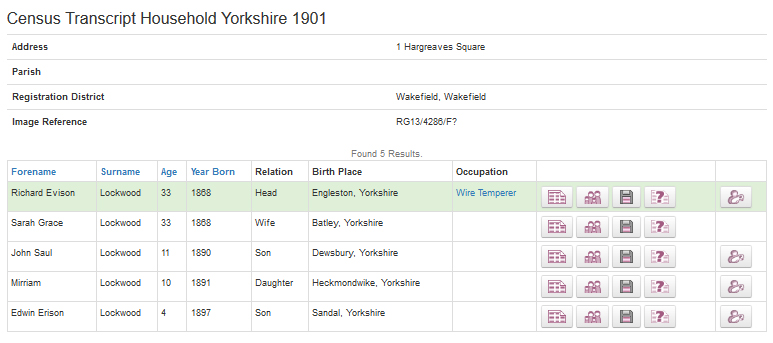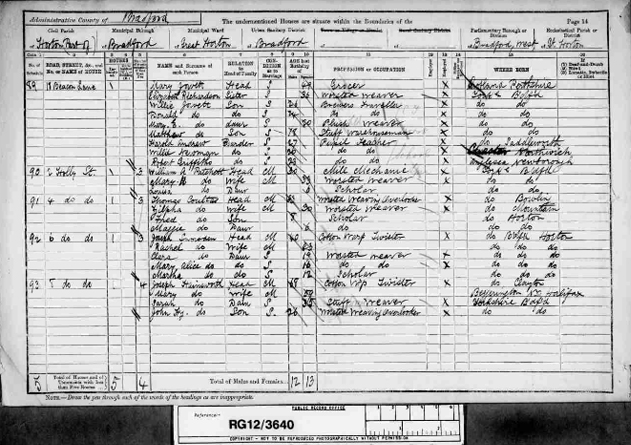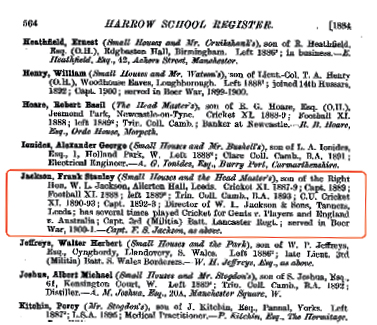 Cricket
Cricket was more developed than football when Victoria came to the throne. Again, its organisation was recognisably modern by the end of the 19th century. By then a first class and minor county structure was in place, and both local league and village cricket had become a part of the British way of life. Games against the odds often allowed local players to challenge the greats. In 1846 for example, a XX of Sheffield took on an XI of the best players in the country. Here TheGenealogist leads us to the legendary Frank Stanley Jackson (1870-1947) living in splendour in 1911. Known as 'F.S.', he attended Harrow and Cambridge, played 200 games for Yorkshire and 20 tests for England. He was a successful captain of his country, fought in the Boer War, became an MP and later the Governor of Bengal. By using the Educational records on TheGenealogist we find Johnson in the Harrow School Register and the Trinity College admissions, with further details gleaned from the Peerage, Gentry and Royalty records.
Early Yorkshire cricket captain Roger Iddison (born in Bedale in 1834) produces six hits via TheGenealogist's Master Search. One entry refers to him as a 'manure agent' and another as a 'professional cricketer'.
Baseball
Even baseball comes into the picture in regard to Sporting Yorkshire. This remarkable programme for a 1937 match between the Yorkshire League and the Canadian National Side in Sunderland was discovered in a Wearside Archive. One of the promoters of the match was a young Eddie Waring who later became a legendary rugby league commentator.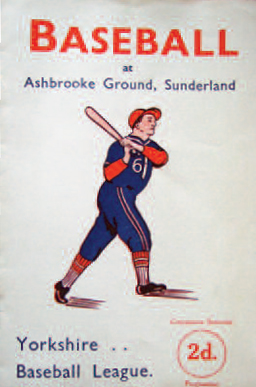 Sporting Women
So far there has been no reference to sportswomen in the Victorian and Edwardian periods. Archery was one of the sports carried out by women in late Victorian and Edwardian times – in fact the national championships were held in York in 1889 and 1908. Other sports (all amateur) adopted by 'ladies' were swimming, tennis, croquet, golf and hockey. Competitive tennis and hockey were often well-covered in the local press in the early 20th century. There was also female participation in the early Olympics – London in 1908 in particular – so if there are rumours of an early female Olympian in the family, it may be worth following up. Unfortunately etiquette meant that women were often recorded politely as Miss or Mrs without initials which can cause problems for researchers. However, in 1909 two ladies called Mitford played hockey for Yorkshire against Lancashire – both from the Filey club. TheGenealogist reveals a family of young Mitford ladies living at the vicarage at Humnanby close to Filey. This may well be the right family as, with the exception of swimming and football, female participation in sport tended to be middle and upper class.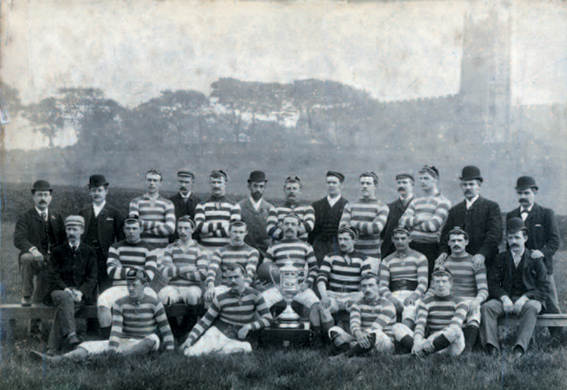 Research Ideas
I recently discovered a newspaper record of a farming ancestor playing village cricket in Derbyshire in the 1840s – and scoring '0'. All is possible! Once you have discovered you sporting ancestor – however 'part-time' – you can refer to many useful written and pictorial records to back up information gained from TheGenealogist site:
Written
Contemporary books
School magazines
Newspaper accounts
Sporting press
Programmes, cards and scorecards
Recent club programmes and glossy magazines
Songs and ballads
Scrapbooks
Personal sporting archives and diaries
Club archives and regional archives
Oral (now from the mid-20th century onwards)
Pictorial
Photos
Moving images
Prints – pre photo of games
Cartoons
Cigarette Cards
Ephemera