It was on 16 February 1923 that Howard Carter unsealed the burial chamber designated KV62 in the Valley of the Kings to reveal to the world the wonders that it contained. KV62, of course, was the tomb of the young pharaoh Tutankhamun, who was the last of his royal family to rule during the end of the 18th dynasty, c.1334–1325 BC.
Howard Carter had been a sickly child and so received his education at home. His professional artist father, Samuel J Carter, taught him how to draw and as a 17-year-old Carter showed enough artistic talent that he was noticed by the Egyptologist Percy Newberry, who took him to Egypt to draw tombs from 1892 to 1893. Though still young, Carter was appreciated for his innovative work as he made improvements to the methods used when copying tomb decorations. It was while Carter was in Egypt that in 1892 he also worked at Tell el-Amarna with the famous archaeologist William Flinders Petrie for a season. Then from 1894 to 1899, he joined the Swiss Egyptologist Édouard Naville at Deir el-Bahari as a draftsman and here he recorded the beautiful wall reliefs in the mortuary temple of the female pharaoh Hatshepsut at Thebes.
In 1899, Carter's career saw him appointed as the chief inspector of the Egyptian Antiquities Service (EAS). In this role he supervised a number of excavations at Thebes (now known as Luxor) and then in 1904, he was transferred to the inspectorate of Lower Egypt. Carter received praise in this time for improvements that he introduced in the protection of, and accessibility to, existing excavation sites, as well as his development of a grid-block system to be used when searching for tombs. While at the EAS, Carter was also provided with funding by his employers to head up his own excavation projects.
The year 1905, however, saw a formal inquiry into what became known as the Saqqara Affair, a noisy confrontation between Egyptian site guards and a group of French tourists. Carter took the side of the Egyptian staff over the tourists and so he resigned from the EAS and this began a difficult period for the Egyptologist. It ended in 1907 when he was recommended to the Earl of Carnarvon who needed someone to supervise excavations of tombs in Deir el-Bahri, near Thebes.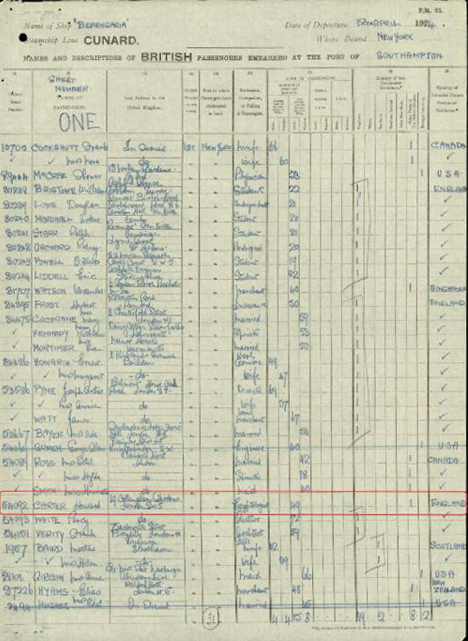 'Can you see anything?'
As we are able to determine from the earl's entry in The Concise Dictionary of National Biography from TheGenealogist's Occupational Records, the association between the peer and Carter covered 16 years. However, it was interrupted by the First World War in which Carter spent time working for the British Government as a diplomatic courier and translator. With the return of peace Carter was able to resume his excavation work towards the end of 1917, the Earl of Carnarvon having obtained the concession to excavate in the Valley of the Tombs of the Kings near Thebes back in 1914.
On 4 November 1922, a young water boy on the site accidentally stumbled on a stone that turned out to be the top of some steps cut into the bedrock. Once the steps were partially dug out a doorway was found that was stamped with indistinct oval seals and hieroglyphic writing. Ordering the staircase to be refilled, Carter sent a telegram to Lord Carnarvon. Two-and-a-half weeks later, on 23 November, the Earl and his daughter Lady Evelyn Herbert returned and three days later Carter made a 'tiny breach in the top lefthand corner' of the doorway. With Lord Carnarvon, Lady Evelyn Herbert and others in attendance, Carter was able to peer in by the light of a candle and see that many of the gold and ebony treasures were still in place. History records that Carnarvon then asked, 'Can you see anything?' and Carter replied with the famous words: 'Yes, wonderful things!'
With the tomb cleared, Carter then retired from archaeology and became a part-time agent for collectors and museums, including the Cleveland Museum of Art and the Detroit Institute of Arts. In 1924 he set out on a lecture tour of Britain, France, Spain and the United States. His illustrated lectures in New York City and other US cities were attended by large and enthusiastic audiences. From the outgoing passenger list at TheGenealogist, we can see Howard Carter setting out for the American leg of his lecture programme. Carter travelled on the Cunard ship RMS Berengaria that departed from Southampton to New York on 12 April 1924. He was travelling with the author Percy White, who in 1911 had been appointed as a lecturer at the Egyptian University at Cairo. Carter never married, nor had children, and so it is not a surprise that he is not accompanied by a wife or family on this trip.
The family records
Howard Carter was born in Kensington on 9 May 1874, the son of Samuel John Carter, a well-known animal and portrait painter. Searching TheGenealogist finds his birth in the civil registration index, as well as being announced in the Illustrated London News on Saturday the 16th, him having been born at his parent's home the Saturday before. Howard Carter's mother was Martha Joyce Carter (née Sands), the daughter of a builder from Norfolk. Samuel and Martha Carter had ten sons and one daughter, with Howard being their youngest child. We are able to find the parents, along with Howard and his sister Amy, living at 10 Rich Terrace in Kensington in 1881. The census reveals that they had a cook and one domestic servant under their roof. The other children were not present but some of Howard's brothers, Henry and Edgar, were counted in the household the next time the census was taken, in 1891. In this census, 26-year-old Henry is working as a steel engraver, 18-year-old Edgar as a geologist and 16-year-old Howard was recorded as an art student.
Howard Carter's father, Samuel, was a well-recognised artist at the time, contributing sketches to the Illustrated London News and also exhibiting his art at the Royal Academy. He had originally trained and developed his son's artistic talents and this aptitude would be Howard's passport to first travel to and to work in Egypt. A search of the Newspaper and Magazine collection on TheGenealogist discovers a number of Samuel Carter's works for the Illustrated London News, together with him appearing in the news section when he was mentioned in various articles, for example when his paintings were exhibited at the Royal Academy.
Samuel and Martha had married in 1858 in their home parish of Swaffham, Norfolk when he was 22 years old and she was 21. Consulting the Norfolk Parish Record collection on TheGenealogist, released in association with the Norfolk Record Office, allows us to see the parish register and to note the names and occupations of the couple's fathers. This reveals that Martha's builder father was named William Sands, while Samuel was the son of Samuel Carter, a gamekeeper.
With this information we can then trace the baptism of the younger Samuel in the parish registers of Swaffham, Norfolk for 16 October, 1835. This entry also helpfully reveals to us that his baptism was a few months after his birth as he was born on 1 March 1835. It identifies for us that his mother was Frances Spincks and so by using TheGenealogist's Parent's Potential Marriage SmartSearch we can find the marriage of Howard Carter's grandparents on 28 February 1832 in Swaffham.
Howard Carter was 64 when he died from Hodgkin's disease at his home in London near the Royal Albert Hall on 2 March 1939. We can find his death recorded in the civil death records on TheGenealogist, and a search of the Trade, Residential & Telephone Directories finds the address of his flat at 49 Albert Court, Prince Consort Road, Kensington. In this entry in the Royal Blue Book for 1939 his honorary doctorate of science from Yale allowed him to use the letters DSc after his name. Despite being the Englishman responsible for perhaps the biggest archaeological discovery of his era he had received no British civil honours or honorary university degrees.
Using a mixture of records on TheGenealogist has enabled us to trace Howard Carter from his birth being announced in the Illustrated London News to his death in 1939 when we find his address from the Trade, Residential and Telephone Directories to be neighbouring the Royal Albert Hall in Kensington. The parish records from Norfolk enabled us to trace his parents and grandparents in church marriage and baptism registers, and the Newspaper & Magazine collection allowed us to see some interesting examples of his father's work. When researching our ancestors it is always good to be able to look in multiple record sets to add to the story of a person or their family's life and TheGenealogist has proved invaluable in this task.
For generations the Earls of Carnavon's country seat has been Highclere Castle in Hampshire and it would become the home of many Egyptian artefacts collected by Howard Carter's patron The Rt Hon George Edward Stanhope Molyneux Herbert, the 5th Earl. The stately home famously doubles for Downton Abbey in the TV series and in the new film of that name. You can read about the real Downton Abbey, Highclere Castle, in the new print edition of Discover Your Ancestors as well as family history of some of the cast. Discover Your Ancestors Issue 9 is available now via www.discoveryourancestors.co.uk.