In the years before the First World War and this tragedy, Cheridah Stocks made a name for herself by becoming an aviator. The mix of the glamorous lady aviator with the Daily Mirror's young elephant was obviously a publicity shot designed to catch the public's eye. A search of TheGenealogist Occupation collection has found this pioneering woman flyer within the Pilot's records.

---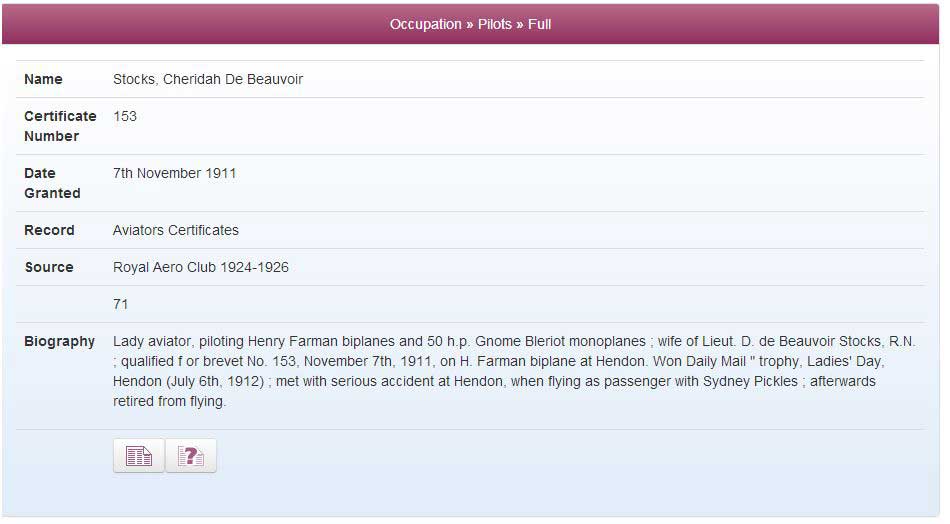 Many of the early female pilots were from that strata of society that could easily afford their exhilarating new pastime and Cheridah was no exception. She trained at the Grahame-White flying school at Hendon and became only the second British woman to be awarded her Royal Aero Club aviator's certificate - following fellow British woman Hilda Hewlett. It was on the 7 November 1911 that Cheridah Stocks achieved this milestone, passing her test using a Farman biplane at Hendon; at the time she was only 24.
The inspiring lady pilot then became a regular competitor at the various air meets and races at Hendon often flying her Blériot monoplane, or co-flying with male friends in other aeroplanes. It was, while airborne with one of her fellow pilots, that the incident which would bring the end of her flying career occurred. In 1913, just two years after she had obtained her prized aviator's certificate, she was flying with the pilot Sydney Pickles when the plane spun out of control. The pair crash-landed with Pickles smashing up his leg. A seriously injured Cheridah Stocks was taken to the Central London Sick Asylum, where she remained unconscious for several days - her predicament being followed by the general public in the newspapers.
When she finally recovered Cheridah Stocks was paralysed down her right hand side. Flying was no longer an option for her, though she remained interested in aviation for the rest of her life. She now forged a new career as an anthropologist and went on to study at Oxford in the 1920s where she gained a BSc in Social Anthropology. This trailblazing lady died on 1 May 1971 in Northampton, aged 83.
From a picture found on TheGenealogist's fascinating Image archive and then using the birth, marriages and death records, plus census and occupational collections on the site, we were easily able to trace this pioneering lady aviator and to discover that she effectively gained her "wings" on the 7th November 1911 when she was awarded the Royal Aero Club's Aviator's Certificate number 153.