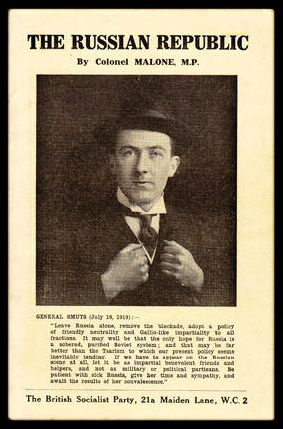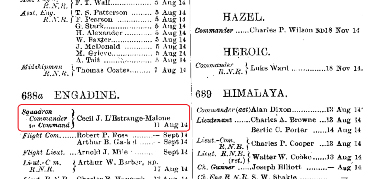 Cecil John L'Estrange Malone (7 September 1890 – 8 June 1965) was not only blessed with a tremendous name, but he also led a very interesting life. Malone came from a well-connected background and went into politics as a Liberal MP after serving in the military. A pioneering naval aviator, during his time in the Royal Navy and then the RAF, he was known to be an anti-communist in his earlier career. The author of a number of articles strongly criticising left-wing activists, he then changed his political views and went on to serve as the United Kingdom's first ever communist Member of Parliament. Dissociating himself from the Communist Party of Great Britain he later turned to the Labour Party and was part of Ramsay Macdonald's 1929 government.
Cecil had joined the Royal Navy in 1905 and went to Dartmouth to train as an officer. Using the Military records on TheGenealogist we see that he appears in a number of Navy Lists including 1912's list, where he is a lieutenant, a promotion from sublieutenant in 1911.
Cecil went into the newly developing field of military aviation and he earned his Royal Aero Club certificate (No 195) on 12 March 1912, as we can see from the records on TheGenealogist.
An able pilot, as can be seen from when the navy was experimenting with aircraft on ships, L'Estrange flew his plane off a platform on the forecastle of the HMS London into a 20 knot wind and all while the ship was steaming at 12 knots. Later when the Navy adopted aircraft carriers in WW1, he would be put in command of two modified vessels which carried seaplanes in hangars built onto their decks. Both HMS Engadine and HMS Ben-my-Chree had been converted from their former lives as ferries – Engadine as a cross-channel railway steamer and Ben-my-Chree an Isle of Man packet steamer. A search of the Navy Lists on TheGenealogist finds him as commander of these two ships.
The First World War saw Malone as the air commander of the Royal Naval Air Service planes taking part in the Cuxhaven Raid on 25 December 1914. This operation was aimed at destroying German Zeppelin sheds that were out of the range of British planes based in the UK. Planes from Malone's ship, HMS Ben-my-Chree, were the first on record to have carried torpedoes and they used these weapons against three enemy vessels in 1916. Cecil Malone then took over command of the East Indies and Egypt Seaplane Squadron and was awarded the Egyptian honour of a Fourth Class Order of the Nile. Then in 1918 came a posting to a position in the Plans Division of the Admiralty before being sent to France, where he became the First Air Attache at the British Embassy in Paris. At this time he became the Air Representative of the Supreme War Council in Versailles in 1918.
With the establishment of the RAF, on the amalgamation of the Royal Naval Air Service and the Army's RFC in 1918, he exchanged his naval rank to become a lieutenant colonel in the new RAF. He had, however, left the service before the RAF adopted its new rank structure in August 1919 and so he continued to write as and be known as Lt Colonel. For his service in the war he was awarded an OBE – but his later exploits would see him stripped of this honour.
The war ended and Cecil L'Estrange Malone stood as a Coalition Liberal Member of Parliament in the East Leyton constituency. He was elected to the House of Commons in the 1918 general election and his standpoint at that time was firmly against communism. He wrote a number of articles strongly criticising left-wing activists – but then his views changed dramatically.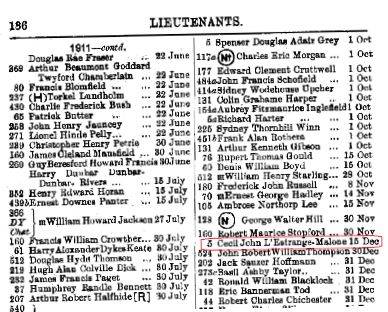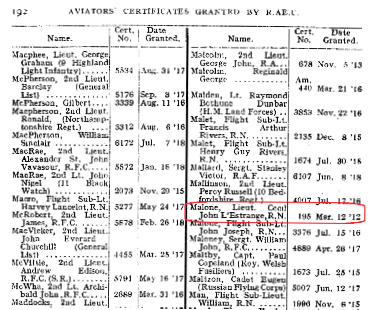 In September 1919, with the blessing of the British Foreign Office, he entered Russia and made his way to Petrograd where he met with key figures in the trade union movement. From there he went by train to Moscow and was able to meet the top officials in the Bolshevik government of the Soviet Union including Maxim Litvinov, Georgii Chicherin and Leon Trotsky.
This visit to Russia saw him tour theatres, factories, power stations and government offices and he came away persuaded that the Bolsheviks had the correct answer to the economic reconstruction of their country. Cecil L'Estrange Malone was now a committed communist.
It was a speech of his at the Royal Albert Hall in November 1920 that caused the authorities to seek his arrest. This son of a well-heeled family with aristocratic connections suggested in his address that, during a revolutionary crisis, excesses might occur, including the execution of some prominent members of the bourgeoisie. Malone asked his audience: 'What are a few Churchills or a few Curzons on lampposts compared to the massacre of thousands of human beings?'
Having dropped his bombshell, he then travelled to Dublin to give another talk. In his absence the police searched his London house and found firearms and evidence that he had written a Red Army officers course, an incriminating leaflet intended to teach sabotage and subversion in Britain. Cecil was arrested in Dublin and brought back to London to face justice and on 12 November 1920 he went before Bow Street Police Court charged under the Defence of the Realm Act.
Cecil Malone was sentenced to six months imprisonment for his crime and in June 1921, on his release from jail, he was stripped of the OBE that he had been awarded for his war service just a few years earlier. Cecil, however, remained an elected member of the House of Commons but he didn't stay a member of the British Communist Party for long. Joining the Independent Labour Party, he moved politically to the right of the Labour Party and in an 1928 by-election he was elected as Labour MP for Northampton, being re-elected in 1929. By 1931 he got a government job as a parliamentary private secretary to the Minister of Pensions in the Labour government and we can find him in the London Post Office Directory 1929 in the Parliamentary Directory pages.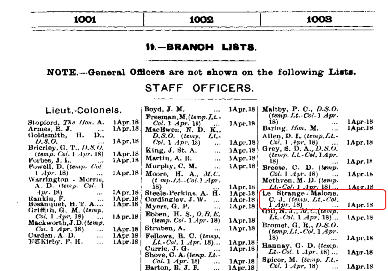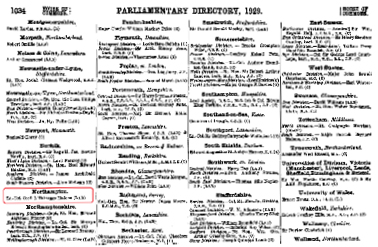 The Family
Malone's background was not one that would have encouraged his left-wing beliefs. His family were from the gentry with links to the aristocracy. Using the Master Search on TheGenealogist we can find Cecil's birth in the fourth quarter of 1890. He had been born in Dalton Holme in the East Riding of Yorkshire where his father, the Rev Savile Richard L'Estrange Malone, was the Church of England rector of the parish. In the occupational records on TheGenealogist, Cecil Malone's father's entry in the List of Clergy for 1907 tells us that he had been ordained a priest in Armagh in 1867.
Both sides of Cecil Malone's family appear in the Peerage, Gentry and Royalty records on TheGenealogist. From the Blood Royal of Britain – The Plantagenet Roll we find that his mother was Frances Mary Foljambe who, the publication tells us, was the sister of the Earl of Liverpool.
In the summer of 1921, after his release from prison, we are able to find his marriage to Leah Kay. She had been an inspector for the Ministry of Health before working as a secretary for the Conservative MP Henry Cavendish-Bentinck and it was during this time that she had met Cecil. Leah herself would go on to stand for election to the London County Council and represent West Fulham rising to become an alderman in 1937.
The couple remained married until Leah's death while on an Italian holiday in the 1950s. Her death, aged 65, is found recorded inside the Overseas Death records on TheGenealogist, where her entry is in the Consular Deaths for Genoa.
In 1956 he then married, for the second time, to Dorothy N Cheetham. This marriage, in Chelsea for the July- September quarter of that year, we can also find having searched TheGenealogist's GRO marriages.
From the 1930s Cecil L'Estrange Malone now played less and less of a political role. What he did then is explained by a document from within the Immigration, Emigration and Travel records on TheGenealogist. This reveals that he travelled to Marseilles on the Mediterranean coast of France, but what is interesting is that he has now given his occupation as travel agent. So the accomplished pioneering aviator turned communist MP, who moved to the right wing of the Labour party, seems to have reinvented himself yet again. TheGenealogist's range of records have allowed us to flesh out a really fascinating and colourful character's history.