The clue to unravelling the mystery was to be the place of abode that had been neatly written in the parish register, even if it had been incorrectly spelt as Standfield Hall with a "d". A search of the Newspapers & Magazines collection on TheGenealogist, for the names of the deceased, revealed a story in The Illustrated London News about the Stanfield Hall Murders in Norfolk.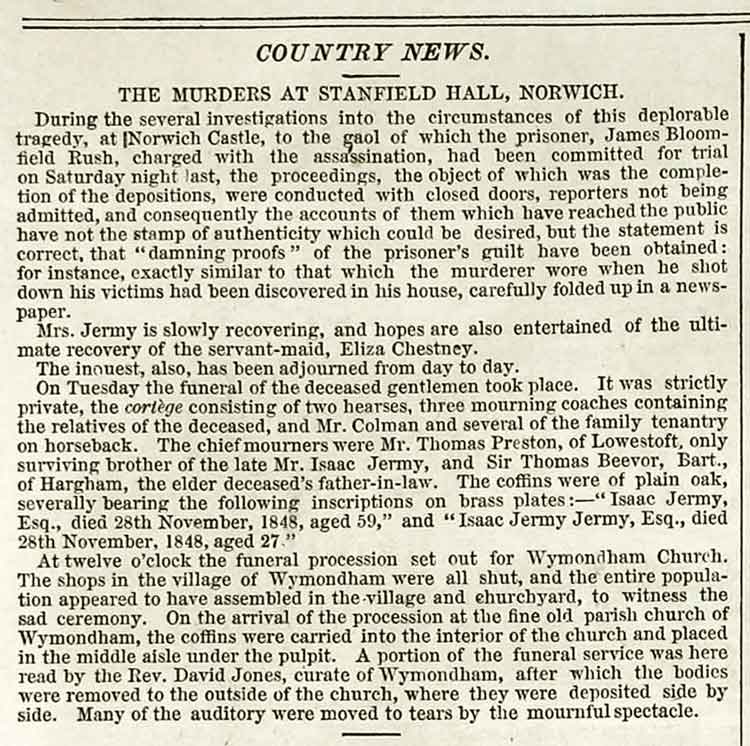 The report, while not revealing much about the circumstances of the double murder, introduces a conundrum. Why, I wondered, did the elder Isaac Jermy's sibling and the deceased not share the same surname? The brother went by the name of Mr Thomas Preston of Lowestoft, so I wondered which of them had changed their name, or whether they were half-brothers? An explanation was forthcoming as soon as I looked the family up in the Peerage, Gentry & Royalty record collection that is also found on TheGenealogist.
An entry in the digitized book Norfolk Families revealed that a William Jermy of Bayfield had married for a second time to a Frances Preston, the daughter of an Isaac Preston of Beeston, but had no children. On William's death his property passed to his wife's brother, the Rev George Preston and it was this clergyman's son who, also named Isaac Preston after his grandfather, was destined to be the eldest victim of the murderer. Isaac, having inherited Stanfield Hall, then assumed the surname of Jermy. The reason for his change of name was to comply with a clause in William Jermy's original will that the estate should pass "to the male person with the name Jermy nearest related to me in blood, and to his heirs forever". Isaac Jermy, formally Preston and being a lawyer by profession, was simply complying with the letter of William Jermy's will. This is not surprising as Isaac had risen to hold the important positions of Steward of Yarmouth and as the Recorder of Norwich, he was a part-time circuit judge.