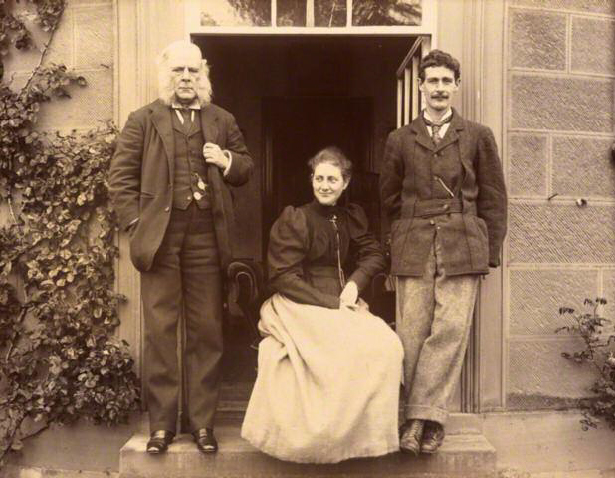 There can't be many people in Britain who do not know the children's books of Beatrix Potter and the characters that she created, such as Peter Rabbit, Mrs Tiggy-Winkle and Squirrel Nutkin.
While she never had any children of her own, and her childhood was spent being taught at home by a governess, therefore missing out on contact with other children as a young girl, she had the inherent creativity to pen the iconic tales that are still loved by children to this day.
Helen Beatrix Potter was born on 28 July 1866 in London at her parents' home in Notting Hill. By all accounts, it was a comfortable house in Kensington in which the famous author was to grow up. The recent release of the Kensington and Chelsea Valuation Office maps and field books as part of the Lloyd George Domesday Survey – a major record set of property ownership and occupancy on TheGenealogist – now allows us to discover more about the house that was owned and occupied by her father, Rupert Potter. We can see exactly where the house was situated on a map from the time and also read the description which tells us that the building was a 'Brick built stucco fronted semi-detached residence'.
Family history
Rupert William Potter, Beatrix's father, had practised as a barrister in London for some years before retiring comfortably in this house. His birth, however, had been in Manchester in 1832 and in fact his wife's family also had roots in that city.
Beatrix's grandfather, Edmund Potter, had been a Manchester industrialist and member of parliament. At his birth, his parents were not members of the Church of England so to find his birth we can turn to TheGenealogist and the RG4 Nonconformist baptism records. From these, we can see that Edmund was the son of James Potter and Mary Moore and that he had been born on 25 January 1802 at Manchester and then baptised in the April of that same year. The records on TheGenealogist reveal that this register of births and baptisms was from the Cross Street Presbyterian Meeting House in Manchester and that the Potters have been recorded as being from Ardwick. Accounts of Edmund Potter's later life note that he was known to be a member of the Unitarian church, a denomination that evolved out of Presbyterianism in England, so this explains his christening at Cross Street. Researching Beatrix's grandfather further on TheGenealogist returns a number of records that include his listing in an 1869 Kelly's Directory (within the pages of the parliamentary section) as an industrialist and MP, and in the much earlier 1828 Pigot's where he and his cousin, Charles, are listed in business together as calico printers. Later books, such as the White's directory of Derbyshire, reveal that Edmund had set up his own company called Edmund Potter & Co. A successful calico printer, he believed in education for all and in 1885 he built a reading room and library at his plant for his workers to use. When he bought a nearby mill he then used the upper floor as a day school for both boys and girls and for some of his young part-time workers. Details of the village of Dinting in the White's directory of Derbyshire on TheGenealogist testify to this.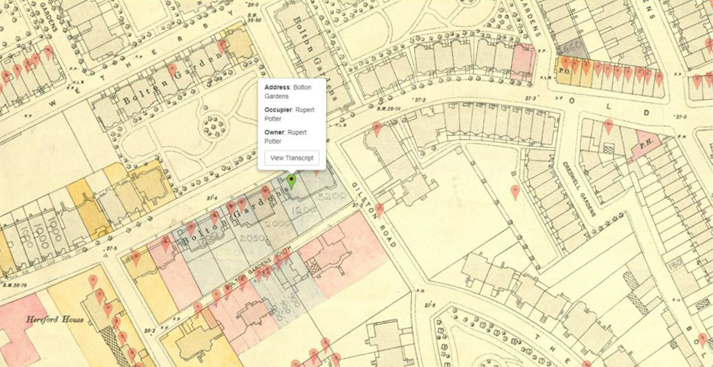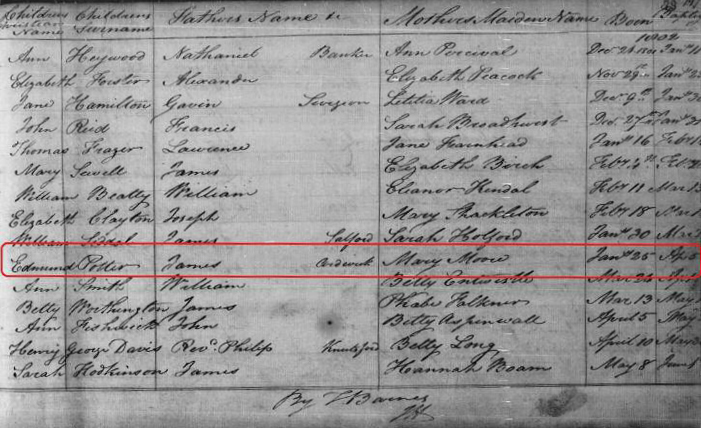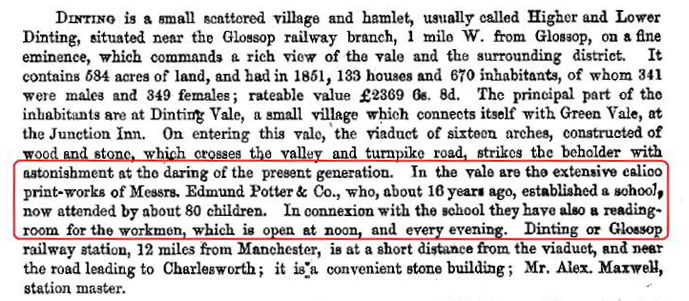 Another entry, this time in Thom's British Directory for 1873, tells us that he was a Fellow of the Royal Society, a justice of the peace, a deputy lieutenant for Derbyshire and the MP for Carlisle – first returned in 1861. His residence was at Camfield Place in Hatfield, Hertfordshire.
Searching the Newspaper and Magazines collection on TheGenealogist reveals the obituary for Beatrix's grandfather in The Illustrated London News of 10 November 1883. He had made it to the age of 81 and was lauded as the 'head of great commercial house also a Liberal politician and promoter of every movement, philanthropic, educational, and scientific, that came under his notice'.
From the baptismal records that we have already seen, and which revealed that Edmund was the son of James Potter and Mary Moore, we had discovered that the Cross Street Presbyterian Meeting House in Manchester was the place of baptism. A further search of all the birth and baptismal records on TheGenealogist, to try and find James Potter's birth date uncovers that his baptism was also recorded at the same Nonconformist chapel. This indicates that the family's connection to Cross Street Meeting House went back at least another generation. The entry in the register for Beatrix's great-grandfather tells us that he was born on 8 September 1771 and baptised on 7 October in that year. With this we are then able to identify the next generation back in the Potter family tree – James is recorded to be the son of a yarn merchant named John Potter. Following this line back, he was the son of another James Potter, a flax merchant.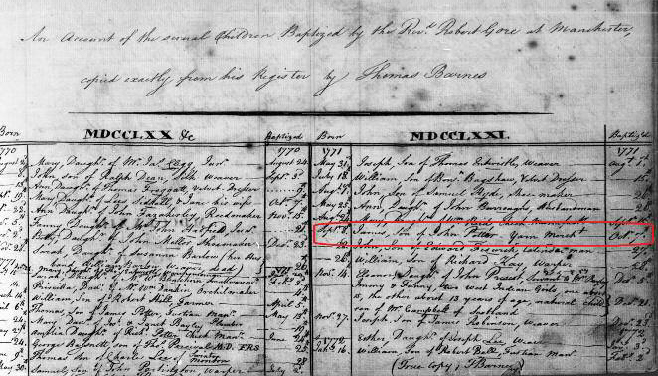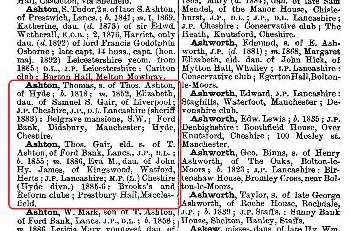 The maternal side
Turning our attention next to the maternal side of the family reveals that Beatrix's mother was the first cousin of Thomas Ashton. He would be raised to the peerage as 1st Baron Ashton of Hyde. Lord Ashton was the son of Thomas Ashton Snr and Elizabeth Gair and searching for the Ashton's in TheGenealogist's Peerage Gentry and Royalty records produces two results. One is for the father, and one is for the son, and both appear in the 1895 Kelly's Handbook to the Titled Landed and Official Classes, which notes that the two men served as Justices of the Peace – while the younger became a member of parliament.
The Ashton family had been leading cotton and cloth manufacturers for many years. Lord Ashton (Beatrix's first cousin, once removed) had been educated at Rugby School and at University College, Oxford, and he had then managed the family business. Ashton was elected to the House of Commons for Hyde in 1885, but lost his seat a year later then unsuccessfully contested the same seat again in 1892. In 1895, however, he was returned as the Liberal MP for Luton and he held that constituency until 1911 when he was ennobled as Baron Ashton of Hyde in the county of Cheshire, and during the First World War he served as chairman of the Cotton Exports Committee. Apart from his political career, Ashton was a justice of the peace for Cheshire and Sussex and was invested as an Honorary Fellow of Oxford University in 1923.
Beatrix buys a farm
It was 1905 when Beatrix became unofficially engaged to Norman Warne, the son of her publishers Frederick Warne and Co. This engagement was much to the disapproval of her parents, who thought that Norman's station in life was somewhat beneath that of their family. With a small inheritance from an aunt, together with the proceeds from the sales of her children's books, Beatrix was now financially in a sound position. She decided to buy herself a farm in the Lake District to spend time in. Tragically Beatrix's fiancé died only a month into their engagement, but Beatrix went ahead with the purchase of Hill Top farm at Near Sawrey that she and Warne had been planning to holiday in.
Having lost Norman Warne, it may have been at this time that she then met her husband to be, as he was in practice as a solicitor in this part of the country. Using TheGenealogist's 1921 census substitute we can find that his family firm was listed in Kelly's Directory of Cumberland and Westmorland for that year. Another resource that we can use is the 1900 Solicitors' Diary, Almanac & Directory with which we can also trace Beatrix's husband. In this publication, he is a partner in the family firm of WH Heelis & Son at Ambleside.
Beatrix's parents, reports say, would have prefered for her to remain unmarried – but she had other ideas. By using the marriage records on TheGenealogist we are able to see that, despite her parent's preference for her remaining a spinster, the wedding to William Heelis went ahead in the bride's district of Kensington in 1913. Beatrix would have been aged 47 at the time.
Beatrix and William had thirty years of marriage together until she died on 22 December 1943 at the age of 77. Her death was registered in Ulverston, Lancashire in the last quarter of 1943 and we can turn to the death index on TheGenealogist to provide us with the volume and the page numbers of the General Register Office's civil registration records for this event. Her legacy is a plethora of books and well-loved characters that survive to this day on many a child's bookshelf.
TheGenealogist has a whole host of record sets that we can use to trace our ancestors' family tree, from the unique landowner and occupier records, Nonconformist registers, directories and much more. TheGenealogist's SmartSearch makes searching across records relating to a person easy by simply clicking the link at the bottom of the transcript. This can be used, for example, in the census records or those for births and baptisms to find other family members vital events. TheGenealogist is also, uniquely amongst data sites, publishing the Lloyd George Domesday survey online.
With access to the hand-annotated, large-scale maps and field books from this collection you can find details of ancestors' Edwardian homes and so discover more about where they lived and the landscape of the 1910 to 1914 period.