Visitations, Directories, And Parish Records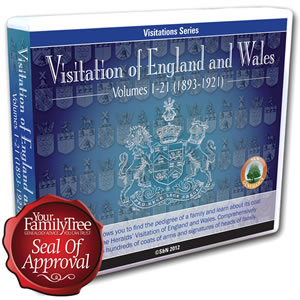 Visitation of England & Wales (1893 - 1921)
This set of six CDs allows you to find the pedigree of a family and learn about its coat of arms from volumes 1 to 21 of Heralds' Visitation of England and Wales. It's illustrated throughout with hundreds of coats of arms and signatures of heads of family. The data is fully printable, with searchable text and images of the original documents. Use it for: Pedigrees of heraldic families in England and Wales.
Kent 1895
This useful CD contains a full printable court, trades and professional directory for Kent, plus a town and villages directory for settlements of the county including Bromley, Canterbury, Dartford, Folkestone, Gravesend, Maidstone, Margate, Ramsgate, Rochester, Tunbridge Wells and more. It also lists Kent County Council members and magistrates for the county. Use it for: Over 1,100 pages of information about Kent.
Burke's Handbook to the Most Excellent Order of the British Empire
This comprehensive CD contains tens of thousands of biographical entries for those granted an OBE, DBE, KBE, GBE or MBE prior to 1921. It's fully indexed with digitally enhanced images of the original text and colour plates of the insignia. Where available, details of the recipient's date of birth, father, spouse, education, war work, clubs and address are shown.
The Records of the Parish of Whitkirk
On this disc you'll find the 1603-1700 registers for the Yorkshire village of Whitkirk, with over 30 illustrations across 200 pages, plus a sketch of the parish as well as histories of the rectory and vicarage (including a list of vicars from 1288 to 1863). It includes details of chantry and church, benefactions, manorial courts, and sections on some prominent families. Use it for: A comprehensive history of a Yorkshire parish.
Cumberland & Westmorland 1929
Family historians seeking kin in the Lake District will love this 650-page CD, covering private residents registers and commercial directories for town and cities including Keswick, Ambleside, Kendal, and many more, plus a trades and professional directory and a private residents directory for each county. It also includes county magistrates listings. Use it for: A look at life in the Lake District in 1929.