TreeView 1.0
Can TreeView do for TheGenealogist what Family Tree Maker did for Ancestry?
TreeView is S&N Genealogy's answer to Family Tree Maker, linking in with its own online services. The program is good value – you get a four-month Diamond subscription to TheGenealogist's website, plus two discs. One disc contains both Windows and Mac versions, the other a small collection of data resources.
TreeView links in with S&N's online tree hosting service of the same name to both back up your research and sync it with other computers as well as Android and iOS devices via the free TreeView app.
You can download a tree from the TreeView website, import a GEDCOM file or start from scratch. You'll then be presented with the main user interface – it's functional but well laid out, and offers a wide range of different views for navigating your tree, from the practical (pedigree and family) to more whimsical (hourglass and fan).
Double-click a person to edit their personal information – adding facts, sources and media is pretty straightforward. Click the magnifying glass next to a person's name and you can search TheGenealogist's website for matching records.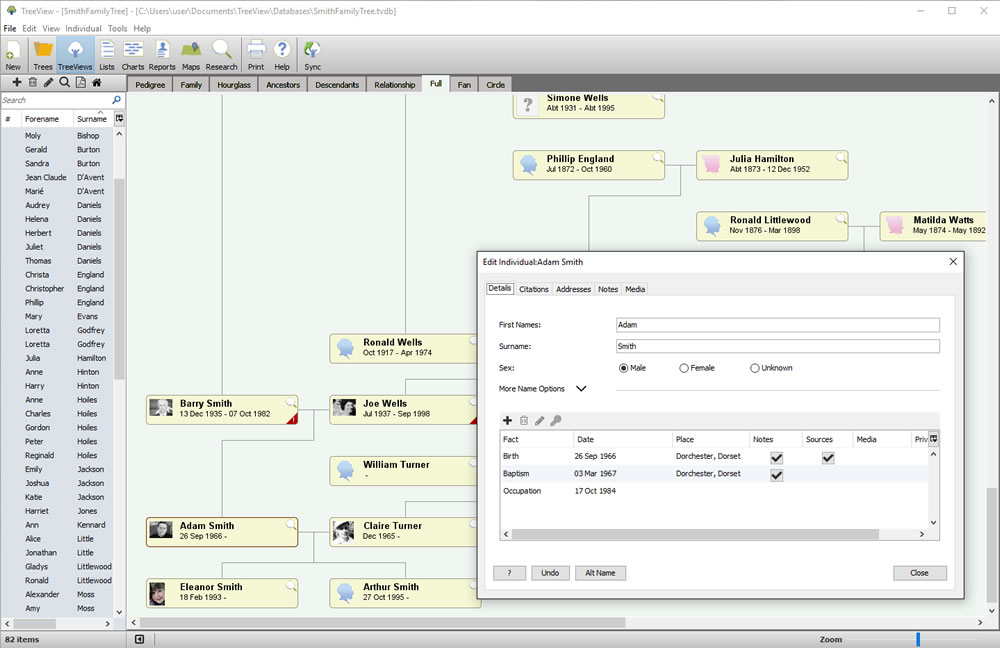 You search with TreeView's built-in browser, and records are added to your online tree rather than directly attached. You then need to click 'sync' to manually download them.
Elsewhere, the mapping tool is very impressive, resolving most place names without any additional effort. The chart tool is a little fiddly in places, but offers a good range of charts and plenty of options for tweaking and adding extra elements.
It's a good first effort – there's plenty of promise here.
Use it for: managing your family tree on Windows and Mac
Publisher: S&N Genealogy Supplies
W: www.treeview.co.uk
Price: £39.95